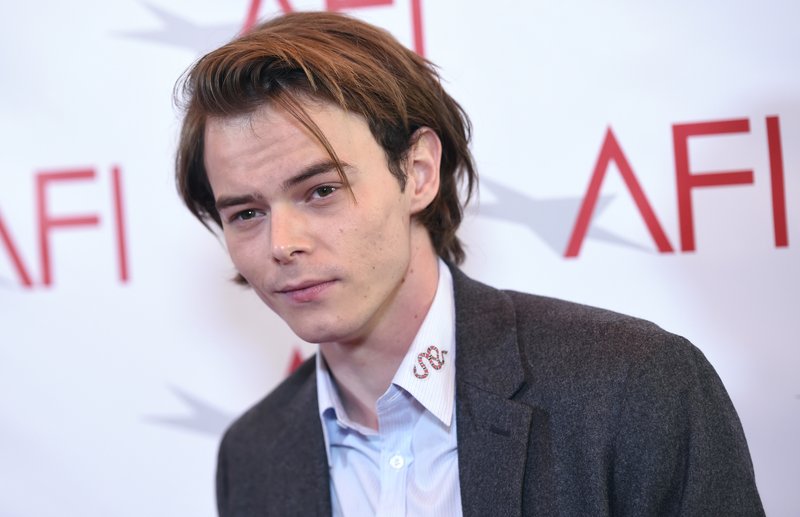 A law enforcement official says "Stranger Things" actor Charlie Heaton was denied entry into the U.S. last week after trace amounts of cocaine were found in his luggage when he arrived in Los Angeles.
The official said Friday a customs canine sniffed Heaton's luggage when he arrived at Los Angeles International Airport last Saturday and officers found traces of cocaine.
The official said Heaton, a British citizen, was refused entry into the U.S. at the airport and returned to London. He wasn't arrested because the amount wasn't enough to warrant any charges.
The official couldn't discuss the matter publicly and spoke to The Associated Press on condition of anonymity.
Heaton stars as Jonathan Byers in the Netflix supernatural drama. His publicist didn't respond to a request for comment Friday night.
In 2015, Heaton made his acting debut with the ITV crime drama series DCI Banks, playing the role of Gary McCready.
Then he appeared as Riley in ITV's detective series Vera.
He guest starred in BBC One's medical drama series Casualty as Jason Waycott.
In 2016, he appeared in the thriller film Shut In, co-starring Naomi Watts and Oliver Plattand directed by Farren Blackburn.Heaton also plays Jonathan Byers in the Netflix supernatural drama series Stranger Things.
In May 2017, Heaton was cast to star as Samuel "Sam" Guthrie / Cannonball in New Mutants, a 2018 film based on the Marvel Comics comic book of the same name.
It wasnt so long agao when two LAX baggage handlers were arrested for attempted drug trafficking. Alberto Preciado Gutierrez, 26, and Adrian Ponce, 27, who were both working as baggage handlers at the Los Angeles International Airport, were arrested on Monday morning and charged with conspiracy to transport and distribute cocaine to the East Coast through the airport.
Unfortunately, the LAX baggage handlers are not the only airport employees involved in drug trafficking.
The rate at which airport officials are caught in drug trafficking schemes has raised serious concern. The Transport Security Administration (TSA) said it is almost impossible to screen all airport employees due to the associated costs. Instead, they have advised all airports to step up random screenings and to update all background checks.
The LAX baggage handlers were charged the same day JetBlue flight attendant Marsha Gay Reynolds, 31, appeared in court.
Vibe reports Reynolds gave herself up to federal authorities in New York after fleeing a checkpoint at the Los Angeles International Airport. She left behind 70 pounds of cocaine. Although the case seems fairly straightforward, Reynolds claims she had no idea of what she carrying.
There have been significant and prolonged shifts in cocaine smuggling into LAX that most likely have been caused by a combination of factors, particularly decreased cocaine production in Colombia, but also enhanced counterdrug efforts in Mexico, high levels of cartel violence, sustained interdiction pressure, and cocaine flow to non-U.S. markets, especially Europe.
Since 2015, cocaine seizures at California LAX have equaled or exceeded seizure totals at South Texas POEs; nonetheless, overall seizure totals remain lower than the seizure totals recorded before the significant decline was noted.
In 2016, the total amount of Drugs seized by LAX  from commercial airlines (398.1 kg). For the past several years, production estimates for Mexican heroin, which is transported primarily overland across the Southwest Border, steadily increased to record levels in 2016.
The primary threat from drug smuggling via private vessels (air and water) is from Caribbean-based traffickers exploiting the Puerto Rico and Florida coastlines.
Traffickers transported mostly cocaine from the Dominican Republic to Puerto Rico, although they smuggled lesser amounts of heroin and MDMA, sometimes commingled with cocaine loads. Caribbean traffickers also smuggled cocaine, heroin, and marijuana from the Bahamas to areas of South Florida between Miami and Palm Beach.
Seizure totals and routes remained relatively constant compared with those of previous years.
Why are so Many Actors Use Cocaine?
One reason stems from the fact that many Actor and non Actors alike still believe cocaine to be a safe, recreational drug that is non-addictive. However, nothing could be further from the truth. Statistics from hospitals, law enforcement, and treatment providers prove that cocaine is involved in crime, accidents, health problems, and needless deaths just as any other drug.
Another reason for people using cocaine is possibly the result of music and movies that promote cocaine use and other drugs as an acceptable form of entertainment today. The number of songs and movies that portray this type of activity as the "normal" way to socialize is astonishing.
According to the American Psychiatric Association, only three of the following symptoms of cocaine addiction must be present to arrive at a diagnosis of cocaine dependence:
Increased tolerance to the euphoric effects, requiring more of the drug to get the desired high.
Withdrawal symptoms such as fatigue, sleeplessness, agitation, or depression appear when cocaine is withheld.
When cocaine is available, they use it all, unable to save some for later.
Cannot successfully reduce the amount of cocaine being used.
Spends most of their time obtaining and using cocaine.
Isolating oneself from friends or family.
Stealing, shoplifting, burglary or homicide to gain money for cocaine.
Increased absences from work or school, job loss, failing grades, dropouts.
Continuing to use cocaine despite knowledge about the mental and physical consequences.
As with any other drug, people using cocaine do it as a voluntary choice; however, compulsive use frequently follows. At this point, professional treatment will be necessary for successfully overcoming the effects of the drug and discontinuing use permanently.
What Do the Effects of Cocaine Feel Like?
Cocaine not only affects the pleasure centers of the brain, it also stimulates other systems in the body that control survival, mood, appetite, arousal, and sleep. People using cocaine experience dramatic energy increased and elevated self-worth, and usually, think they are the life of the party.
Regardless of these intensely pleasurable feelings, people using cocaine can also feel some of the following uncomfortable or disturbing sensations:
Confusion
Nervousness
Restlessness
Paranoia
Delirium
Hallucinations
Violence
Homicide
Suicidal Thoughts
Considering the above facts, it isn't plausible to consider this a safe drug that a person can simply stop using anytime they choose. When a drug produces energy, pleasure, joy, and freedom from pain all at the same time, it is not difficult to understand why no one wants to give it up voluntarily. Sadly, when pursuing these pleasurable benefits, the users eventually feel cheated when they fail to re-create that first initial high. At this point, it is no longer fun, and this is when the problems truly begin for people using cocaine.
When It Stops Being Fun
When cocaine abuse progresses to the point that your family life, social activities, mental stability, physical health, or occupation are adversely affected, what you need to do is seek professional treatment right away. At this point, your cocaine use is no longer providing the fun it once did, and now you need it just to feel normal. If you were able to stop using cocaine on your own, you would probably already have done so.
Clearly, you need the expertise of addiction specialists to help you safely and efficiently overcome the physical dependence. Once that is accomplished you should enter a rehabilitation program to learn how to function in daily life without cocaine present.
Rehabilitation programs are designed to teach you proven methods for preventing relapse while also helping you repair the emotional and spiritual damage that took place during the drug abuse. Lasting recovery is entirely dependent on your level of commitment, confidence, and attitude. During rehab, you participate in various activities, classes, and counseling sessions designed to rebuild your self-esteem, improve your physical health, and help you look deep inside yourself to understand the root causes of the addiction. You will then be able to deal with life in a more productive manner and make some of the dreams come true that you abandoned during your cocaine use.