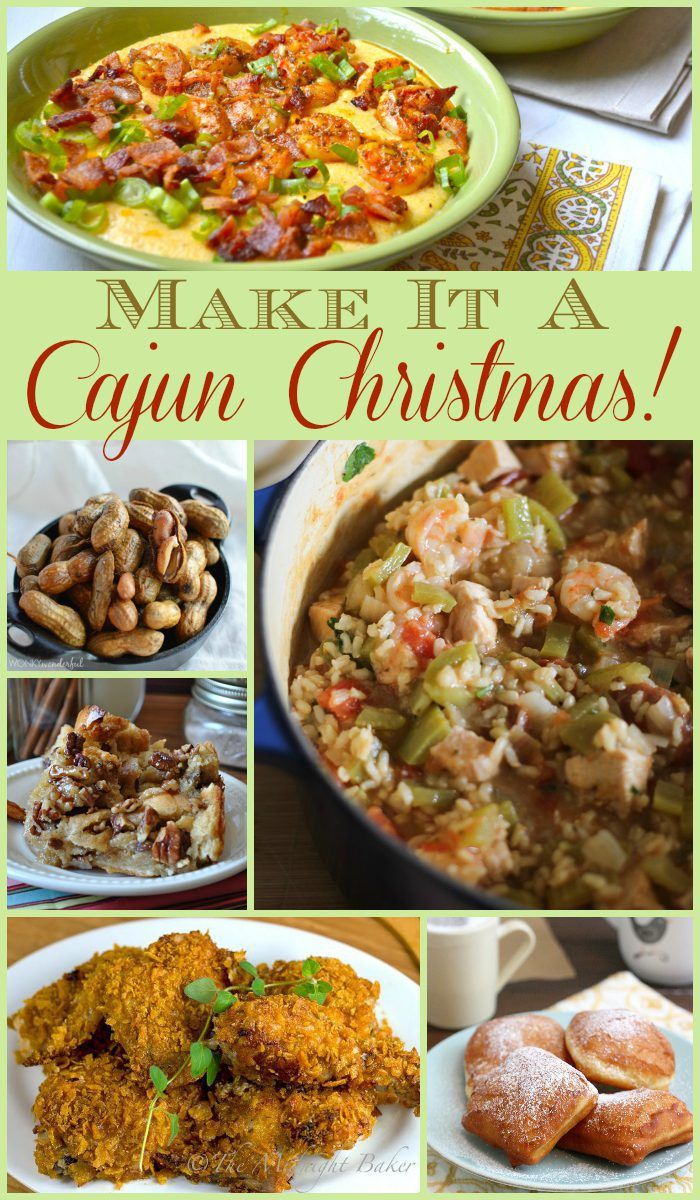 What do you eat for Christmas dinner? Turkey? Ham? Prime rib? We've had all of those and even Chinese takeout, but many years we've enjoyed a Cajun Christmas dinner. Gumbo, a shrimp or crawfish boil, or red beans and rice always make for a good holiday feast. I am from Biloxi, Mississippi after all, just a short drive away from New Orleans. I even grew up listening to my mom read Cajun Night Before Christmas
some years, and she is somewhat famous for hanging wooden gators pulling Santa's sleigh every Christmas!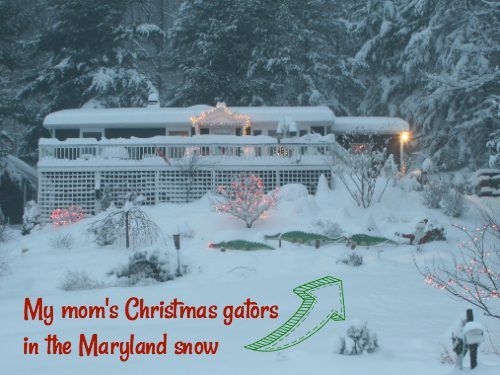 If you want to get in on the Cajun Christmas fun, you can make your own spicy feast! Of course, a feast needs more than just a main dish. If you want to plan a big Cajun meal, you'll need appetizers, sides, and desserts too. That's why I've pulled together a selection of dishes for every course you'll need for a memorable holiday meal.
This seasoned pecan recipe has been a staple for many years in my book of party recipes.  It's incredibly easy to make (maybe 5 minutes worth of actual work), and it's perhaps one of the most addicting things you will ever eat!  As New Orleans is playing host to this year's Super Bowl, the Cajun influences in this recipe are all too appropriate.
1/4 cup butter, melted
1/2 teaspoon Tony's (i.e. Tony Chachere's Creole Seasoning)
1/4 teaspoon Tabasco sauce
2 tablespoons Worcestershire sauce
1/2 pound pecan halves
Instructions
Combine all ingredients (except pecans) in a small dish and whisk together until combined.
Place pecans in a medium bowl and pour liquid mixture on top.
Stir until well coated.
Arrange pecans into a single layer on a jelly-roll pan. (I line the pan with aluminum foil for easy clean-up).
Bake at 300 degrees for 15-20 minutes, stirring once after about 8-10 minutes.
Tip: Watch these pecans closely as they can burn easily.  Seriously.  I burnt the first batch I made this morning because I decided to send a quick email before pulling them out of the oven.
I made a big batch of this gumbo to freeze before both kids were born. Instead of getting by with just sandwiches and pizza delivery during the bleary newborn weeks, we were able to enjoy this savory, spicy, wonderful gumbo for dinner a few times. It freezes beautifully and seems to taste even better leftover. There's a secret about this gumbo: It's pretty low in fat! Yes, really. The original recipe called for a whopping 2/3 cup of oil, and I couldn't bring myself to pour that much into the pot. Over the years I reduced the oil to 1/2 cup, then 1/3 cup. It still tasted just as amazing, but even with 1/3 cup there was oil floating to the top of the finished dish that I had to carefully ladle off. Since there still seemed to be more than I needed, this time I tried reducing the oil to only 1/4 cup. That's only FOUR TABLESPOONS in an entire pot of gumbo! Folks, it turned out perfectly. You can enjoy a big, steaming bowl of gumbo without the side of guilt!
Cajun
filé

/Okra Gumbo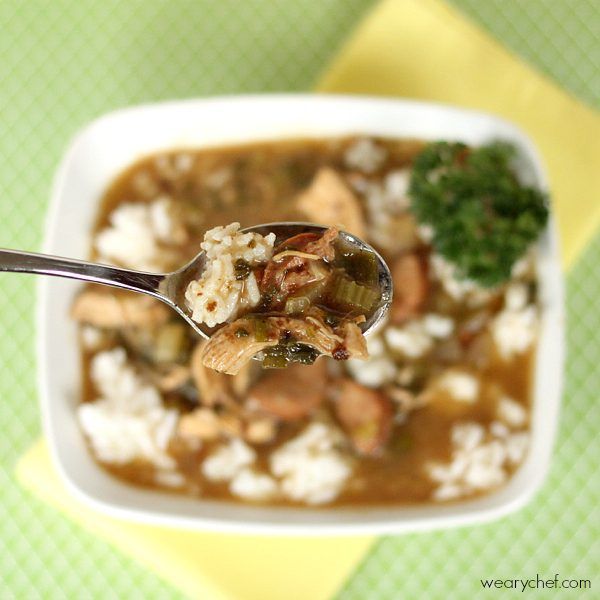 Read through the recipe before you get started because I wrote in opportunities to chop your vegetables and do other prep while you are waiting for other steps. This helps the recipe come together more quickly instead of doing all your chopping first.
1

lb.

boneless, skinless chicken breasts

12

oz.

fully-cooked chicken andouille sausage

,

cut lengthwise and sliced into 1/4″ half circles

1/2

tsp.

Cajun seasoning

,

approximate measurement

1

green bell pepper

,

diced

6-8

green onions

,

sliced thin

4

cloves

garlic

,

minced or crushed

1/4

tsp.

cayenne pepper

,

or to taste

gumbo filé powder

,

optional

Spray a large dutch oven with cooking spray, and heat over medium-high heat.

Sprinkle both sides of chicken breasts with Cajun seasoning, and arrange on one side of the pan. Place the sliced sausage on the other side. (If all your meat can't fit in your pan at once, you can do the sausage first, then chicken.) While your meat is cooking, dice your vegetables. Cook chicken for about 5 minutes per side, and stir sausage occasionally for even browning. Transfer cooked meat to a bowl and set aside. (It's OK if the chicken isn't completely cooked through at this point.)

Your pan will likely be left with lots of brown bits from the meat, and that is OK. Turn the heat down to medium, and add flour and oil. Stir together until smooth, and keep stirring constantly as this roux cooks. Cook until it smells a bit like popcorn and is the color of peanut butter or a tad darker, 5-7 minutes.

Stir in diced onion, bell pepper, and celery until coated with roux. Cover and cook, stirring often, until vegetables are tender, 10-12 minutes. Stir in green onions, parsley, and garlic, and cook 3 minutes longer. (Some flour will stick to the pan and look a bit burned during this step. Do not even worry. That will be incorporated into the gumbo and add wonderful flavor.) While your vegetables are cooking, shred your chicken. Now is also a good time to start the rice cooking.

Add chicken broth, about 1/2 c. at a time, stirring until the mixture is smooth before adding more. Scrape the bottom of the pan as you stir to loosen the browned bits from earlier steps. Add water, salt, cayenne, sausage, and shredded chicken. Increase heat to medium high, and bring to a boil. Cook at a low boil for for at least 10 minutes before serving.

To serve, place about 1/2 c. rice in each bowl, and ladle gumbo over the rice. Sprinkle about 1/4 tsp. of gumbo filé powder over each serving, to be stirred in before eating.
Recipe Notes:
Gumbo filé powder is ground sassafras leaves. It is traditionally added to gumbo to add flavor and thicken the soup. If you can not find it in your area, you will still love this recipe without it!
Shrimp and Creamy Cheesy Grits
One of our favorite comfort foods is this Shrimp with Creamy Cheesy Grits. Oh my gahhhh this is so freaking good. I kid you not, this makes me a little weak in the knees. Plump shrimp are tossed in spices and perfectly sauteed. Grits are cooked in chicken broth then mixed with cream cheese, extra sharp shredded cheddar cheese to make the creamiest, cheesiest grits you have ever had! And if that doesn't sound like enough top it all with freshly chopped green onions, crisp bacon, and freshly ground black pepper. Mercy!
If you have never made the leap and tried shrimp and grits before, this is the recipe that should push you over the edge. The grits do not have a distinctive taste on their own, instead they just soak up the flavor of the shredded cheddar, cream cheese, and chicken broth. Really, just give it a try! It is very simple, and comes together pretty quickly.
Ingredients
1/2-3/4 pound deveined and shelled shrimp
2 tablespoons Olive oil
2 teaspoons Old Bay seasoning
1 teaspoon Italian seasoning
1/4 teaspoon garlic powder
1/4 teaspoon smoked paprika
2 cups chicken broth
1/2 cup yellow corn grits
2 ounces cream cheese (I used reduced fat)
1 cup shredded sharp cheddar cheese
2 green onion stalks, chopped
2 slices bacon
salt and pepper to taste
Instructions
In a large skillet cook two slices of bacon over medium heat until crisp, remove bacon from skillet, roughly chop. Wipe skillet clean and set aside to use later for the shrimp.
In a medium to large sauce pan bring chicken broth to a boil, add grits and reduce heat to low. Cover and let grits simmer for 7 minutes, stirring occasionally.
When grits have absorbed the liquid add cream cheese, shredded cheese and salt and pepper to taste.
Stir mixture well, cover and remove from heat.
Place shrimp in a large plastic bag or mixing bowl, add Old Bay, Italian seasoning, garlic powder and smoked paprika and toss until shrimp is coated.
Heat olive oil in a large pan over medium high heat. Add shrimp and cook 3 minutes on each side or until shrimp is pink and tender.
To assemble the shrimp and grits add a heaping serving of grits to two shallow bowls. Top with shrimp, chopped green onions, chopped bacon and additional pepper.
French Quarter Beignets
I wasted no time in choosing beignets as the Chritmas treat I wanted to make. Square pieces of pillowy dough fried until golden brown and crisp then generously coated in powdered sugar? Yes, please! I've am from New Orleans, but I now live in Los Angeles so when I go back home I  head straight for Cafe du Monde, the place for beignets.
Until then, I am happy to make this easy homemade version and though I obviously have no basis for comparison to the real thing, I'm willing to bet these are pretty darn close! They're airy and crisp, so much lighter than you'd expect from something that just came from a fryer. The beignets aren't super sweet so you can (and should!) really load them up with powdered sugar before you start devouring them. And you will devour them, they're completely irresistible! The dough is made with yeast, but don't let that scare you away. This is one of the easiest yeast recipes I've ever made; there's no kneading involved and the dough comes together in less than 10 minutes.
After a very long day of shoveling, these beignets were the perfect indulgent treat. And I figured with all the calories we'd burned dealing with the snow, we'd definitely earned the right to help ourselves to seconds.
Ingredients
1 cup warm water (about 110 F)
3 tablespoons sugar, divided
1 tablespoon instant yeast
3 cups (15 oz) all-purpose flour
3/4 teaspoon salt
2 large eggs
2 tablespoons canola oil, plus extra for frying
confectioners' sugar, for dusting
In a large bowl, combine the water and 1 tablespoon of the sugar. Sprinkle the yeast over the top and set aside for 5 minutes – the mixture should become foamy. Meanwhile, whisk the flour, the remaining 2 tablespoon of sugar, and the salt together in a medium bowl. Add the eggs and 2 tablespoons of canola oil to the foamy yeast mixture and whisk until well combined. Add the dry ingredients and use a rubber spatula to stir until a rough dough comes together (you don't have to knead it or make it smooth as you might with other yeast doughs). Place a piece of plastic wrap over the bowl and allow to rise in the refrigerator for about 1 hour, or until just about doubled in size. (Don't let the dough rise at room temperature – it's wet and sticky, and chilling in the fridge makes it easier to work with.)
Grab two rimmed baking sheets – line one with parchment paper and generously dust the parchment with flour. Set a wire rack inside of the second baking sheet. Set both aside.
Turn the dough out onto a generously floured work surface. Divide in half. Working with one half of the dough, pat it into a rectangle – if it's sticking to the work surface or your hands, coat it with more flour. Roll the dough to a 1/4-inch thick rectangle about 12×9-inches in size. Cut the dough into 12 equal squares, each about 3×3-inches. Gently transfer the squares to the flour-dusted baking sheet. Repeat the same process with the second half of the dough to make 12 more squares.
Add enough canola oil to a pot to measure about 1 1/2 inches deep – you can do this in a large Dutch oven which will enable you to fry about 6 beignets at a time, but if you'd rather use less oil, it will work just fine in a smaller pot (I used a 3-qt pan). If you go with the smaller pan, I wouldn't fry more than 2 at a time. Set the pot over medium to medium-high heat and heat the oil until it measures 350 F on a candy thermometer. Add the beignets (how many depends on how big a pot you used) and cook for about 3 minutes, flipping them over after 1 1/2 minutes so both sides brown evenly. Try to maintain the oil temperature between 325 and 350 F – adjust the heat under the pot as necessary. Use a spider strainer to transfer the beignets to the wire rack you prepared earlier to allow any excess oil to drain. Return the oil to 350 F before frying the next batch of beignets. Continue until they've all been cooked. Dust with confectioners' sugar before serving.
{Note: these really are best very shortly after frying. I tried to rescue leftovers the next day, but couldn't figure out a way to recreate that original fried goodness. In other words, serve immediately 🙂 )
Makes about 2 dozen beignets