The Golden Globe for best award show party goes to… you.
If you listen to the city's best party planners, that is.
The annual event (airing live, Jan. 11 at 8 p.m.) is typically a boozy affair — but with hundreds of nominees in dozens of categories in both TV and movies, party possibilities can be overwhelming.
We asked event planners for tips on how to turn your living room into a festive Hollywood fete.
To celebrate the evening's awards, host a glamorous Golden Globes get-together with chic decorations and movie and television-themed eats and drinks.
Golden Globes party ideas
When decorating your Golden Globes party, keep in mind that most of your decorations will also be perfect for your Academy Awards party in a few months.
Golden Globes decorations
Create a star-studded event from start to finish with glamorous decorations.
Red carpet: Start the evening off right with a red carpet at your front door. You can purchase a cheap red carpet online, at a costume store or buy a long stretch of red fabric to roll out (make sure the rug is well secured so none of your lady friends trip in their high heels).
Star-studded: Make your guests feel like Hollywood's finest by simulating a Hollywood walk of fame in your home. Buy stars at a craft store and use a metallic marker to write each guest's name on a star.
Hollywood decor: To create the Golden Globes atmosphere, decorate your home with foil star cutouts, star balloons and Hollywood street signs. Everyone will feel like they are really in Hollywood on the big night.
Dazzling tablescape: For tabletop decorations, use a gold or star-studded tablecloth and top with gold-trimmed plates (Bonus: These can be used for holiday dining!). Keep the evening glamorous and sophisticated with old Hollywood-style Champagne glasses for your Golden Globes cocktails.
Golden Globes party games
Guess the Golden Globes winners: Before your guests arrive, print nominee ballots. Pass out the ballots as your guests settle in and ask them to choose the winners before the Golden Globes begin. Have a pool of prizes for whoever guesses the most nominees correctly.
Golden Globes trivia: During commercials, have a trivia contest using questions from the Golden Globes website or make up your own questions.
Golden Globes costume contest: When you send out your Golden Globes party invitations, ask guests to dress like their favorite Hollywood star but to keep it a secret. Make one of the evening's festivities a costume contest. Vote on who has the best costume, the funniest costume or another costume-related contest of your choice.
Golden Globes Bingo: Give out Bingo cards and asign actors names to specific numbers. When the numbers are called place star stickers and a Bingo will follow. I suggest having fun prize packages. Last year we gave out In and Out Gift Cards, A Chocolate golden globe statue. Motion picture pez dispencers and so on. The better the prizes the more people will want to play. This year we have a Ina Gardin cook book as one of our top prizes. 

Golden Globes food and drink
Finger foods are always a good choice for the Golden Globes and other televised red carpet events. No one wants to have a sit down dinner while trying to watch the awards. Create appetizers that coincide with nominated movies and television shows.
For example, the year Denzel Washington is nominated for Best Performance by an Actor in a Motion Picture — Drama for the movie Flight, so we gave out mini bags of peanuts or mini bottles of liquor like they do on airplanes.
As always, Champagne is a must at a Hollywood party, but you can get even more creative with cocktails inspired by the television series.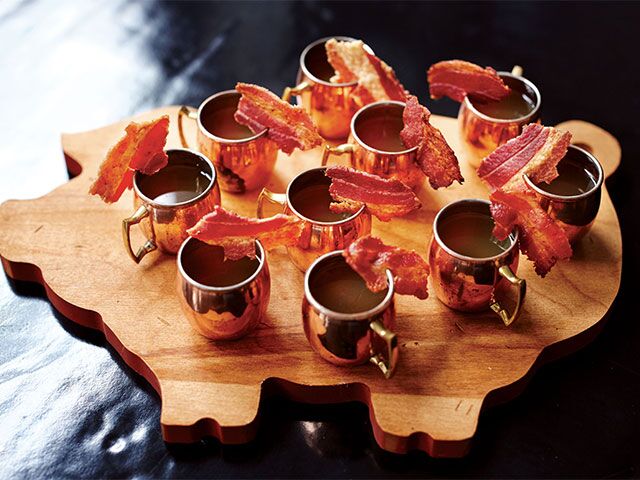 These finger foods are easy to hold and even easier on the eyes.
At your next dinner party, skip the buffet of plated food in favor of mini hor'dourves and desserts. Peter Callahan's new book, Party Food, is filled with witty and enchanting recipes to help you throw your best get-together, regardless of crowd size or cooking skills.
Mini Reuben Pretzel Sandwich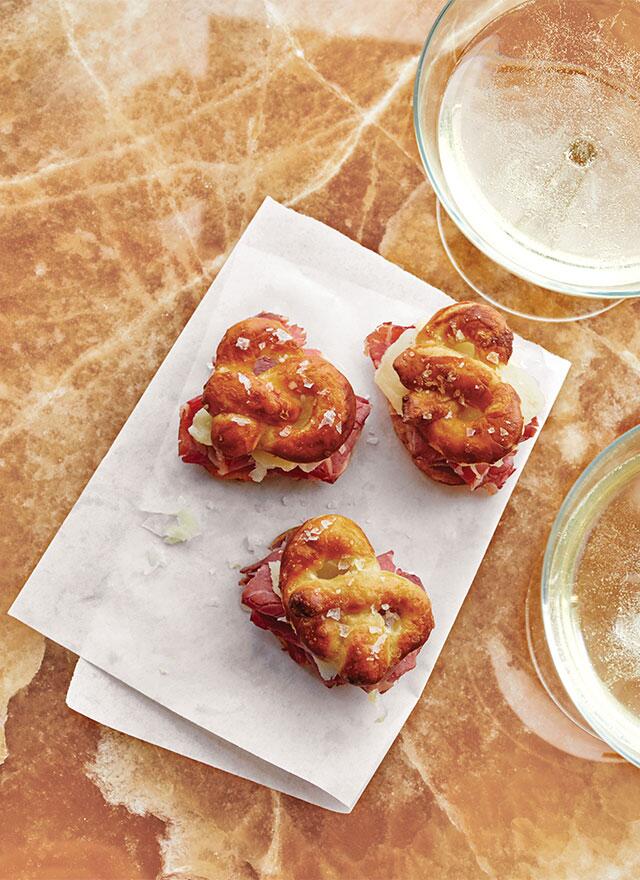 What You'll Need
Makes 20
1 tablespoon active dry yeast
2 tablespoons light brown sugar
1 cup warm (110°F) water
6 tablespoons (¾ stick) unsalted butter, melted
3 cups all-purpose flour, plus more for kneading
2 teaspoons coarse salt
Olive oil, for greasing the bowl
¼ cup baking soda
1 large egg beaten with 1 tablespoon water
Coarse sea salt, for sprinkling
Directions
Step 1: In a large bowl, dissolve the yeast and brown sugar in the warm water and set aside until foamy, about 10 minutes. Add 2 tablespoons of the melted butter, the flour, and the 2 teaspoons salt and mix to incorporate the ingredients. Turn the mixture out onto a lightly floured work surface and knead until it forms a ball, 2 to 3 minutes. Grease a large bowl with olive oil, place the dough ball in the bowl, and turn it to coat with oil. Cover with plastic wrap and let rise in a warm spot until the dough has doubled in size, about 1 hour.
For a round roll, after the first rise, portion the dough into 1-ounce balls. Slightly flatten each ball and use kitchen shears to snip an X in the top.
Step 2: Punch down the dough and portion into 1-ounce balls (you should have 20). Roll into ropes, then twist into pretzel shapes. (Alternatively, shape into rolls; see Note.) Cover the pretzels with a clean kitchen towel and let rise until puffy, about 20 minutes. Preheat the oven to 450°F. Line a baking sheet with parchment paper.
Step 3: In a large pot over high heat, bring 6 cups water and the baking soda to a simmer. Working in batches, carefully drop the pretzels (or rolls) in the water and simmer for 15 to 30 seconds, or until they float. Remove from the water with a slotted spoon and place on the prepared sheet. Brush lightly with the egg wash and sprinkle generously with salt. Bake for 1 to 2 minutes, or until just beginning to color. Brush quickly with some of the remaining melted butter and return to the oven to bake until golden brown, about 10 minutes. Remove and brush once more with butter after baking. Reduce the oven temperature to 350°F. Remove the pretzels and set aside to cool, about 20 minutes. Reline the baking sheet with fresh parchment
Cheese Filling
4-ounce block of Gruyère cheese
4 ounces corned beef
¼ cup Russian Dressing (recipe follows)
½ cup chopped sauerkraut, very well drained
Directions
Step 1: Slice the Gruyère and the corned beef into 40 squares each to fit the pretzels and set aside. When the pretzels have cooled, split them in half. Spread each half with Russian dressing and assemble into sandwiches with 2 slices of cheese, 2 slices of corned beef, and a pinch of sauerkraut. Place them on the prepared baking sheet and warm in the oven just long enough to heat through and melt the cheese, 2 to 3 minutes.
Russian Dressing
Makes about 1½ cups
1 cup good-quality mayonnaise or
eggless mayonnaise substitute
½ cup ketchup
3 tablespoons sweet pickle relish
Directions
Step 1: In a small bowl, combine the mayonnaise, ketchup, and relish and stir to blend. Refrigerate until ready to use.
Mini Funfetti Layer Cake with Funfetti Frosting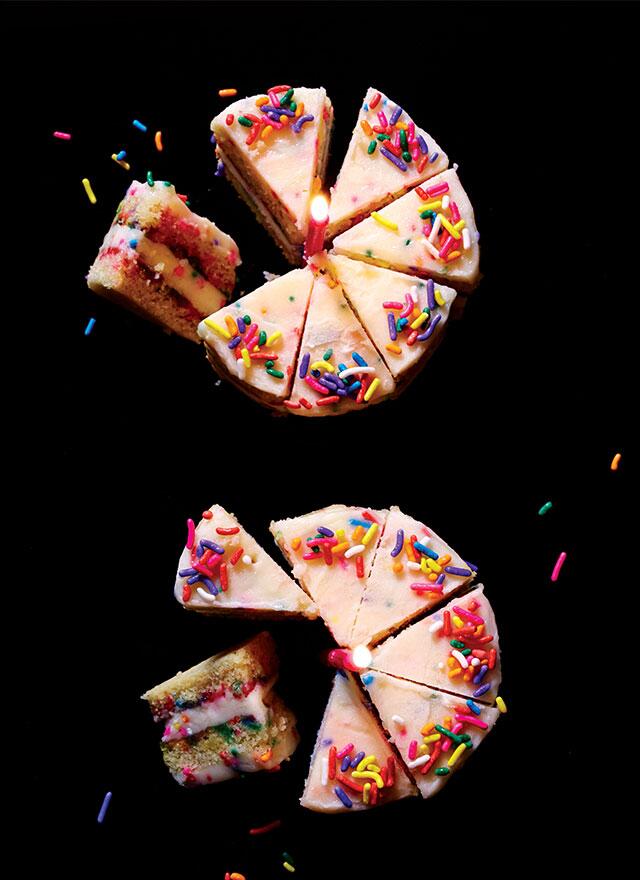 What You'll Need
Makes about 48
Funfetti Cake
1 pound (4 sticks) unsalted butter, softened, plus more for the pan
3¹⁄³ cups sugar
3 tablespoons pure vanilla extract
1½ teaspoons coarse salt
4¹⁄³ cups cake flour
2 teaspoons baking powder
12 large egg whites
1½ cups milk, at room temperature
3 cups rainbow sprinkles
Buttercream Frosting
1 pound (4 sticks) unsalted butter, softened
3 cups confectioners' sugar
2 teaspoons coarse salt
1 tablespoon pure vanilla extract
2 cups rainbow sprinkles
Directions
Step 1: Preheat the oven to 350°F. Lightly grease an 18 × 13-inch baking sheet and line it with parchment.
Step 2: In a stand mixer fitted with the paddle attachment, cream the butter, sugar, vanilla, and salt on medium speed until fluffy, 6 to 7 minutes. Gradually add the flour and baking powder and mix on medium speed until smooth, about 4 minutes. Add the egg whites and mix on medium speed until well combined, about 4 minutes. Scrape down the sides of the bowl and add the milk, mixing on medium speed until combined, about 2 minutes. Remove the bowl from the mixer and fold in the sprinkles.
Step 3: Pour the batter into the prepared baking sheet. Bake until the cake is golden brown and starts to pull away from the sides of the pan, about 25 minutes. Let the cake cool in the pan for 10 minutes, then carefully invert the cake over a cooling rack and let cool completely. Peel off the parchment.
Step 4: In the clean bowl of a stand mixer fitted with the paddle attachment, cream the butter and sugar at low speed until fluffy, 6 to 7 minutes. Increase the mixer speed to medium and add the salt and vanilla extract. Mix until combined, about 2 minutes. Cut 4-inch circles of cake from the sheet (you should have 12). Spread 6 circles with buttercream. Top with the remaining 6 circles and frost the tops (but leave the sides bare). Sprinkle the tops with the rainbow sprinkles. When ready to serve, cut each circle into 8 wedges.
Place the assembled cakes in the freezer for at least 20 minutes to facilitate cutting.
Drunken Pigs with Apple Bourbon Fizz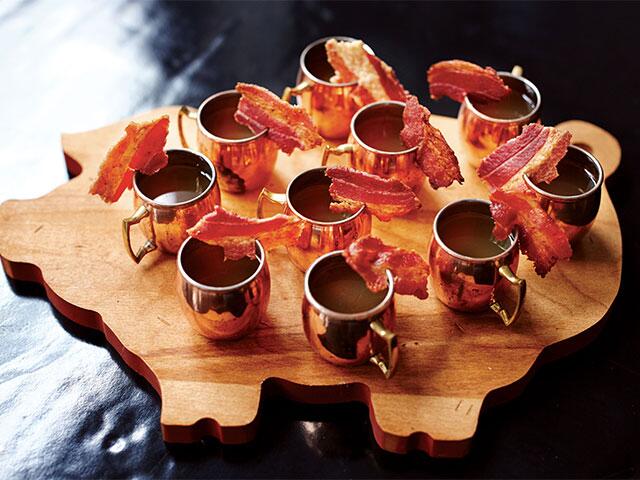 What You'll Need
Makes 12 to 16 bacon pigs (depending on bacon shape)
12 slices thick-cut applewood-smoked bacon
Directions
Step 1: Preheat the oven to 350°F.
Step 2: Line a quarter-sheet pan with parchment paper and lay the bacon strips on the parchment. Place another sheet of parchment and then a second quarter-sheet pan on top of the bacon to keep it flat.
Step 3: Bake until the bacon is almost cooked but still flexible, 10 to 15 minutes. Remove from the oven and uncover the bacon. With a 2-inch pig-shaped cookie cutter, cut the bacon into as many pig shapes as possible. You may have to use a paring knife to make the edges clean. Return the uncovered bacon to the oven and cook to the desired doneness, another 5 minutes or so. Transfer to a paper towel–lined plate to drain.
Step 4: Prepare the Apple Bourbon Fizz as directed and pour into mini copper mugs. With kitchen shears, cut a small slit in the bottom of each pig and attach one to the rim of each mug.
Apple Bourbon Fizz
Makes 12
1 quart fresh apple juice
1 cup honey
5 ounces bourbon
¾ cup freshly squeezed lemon juice
Chilled sparkling water
Step 1: In a large pitcher, mix the apple juice, honey, bourbon, and lemon juice. Refrigerate for at least 1 hour before serving. Pour into mugs and top off each cocktail with sparkling water to taste.
Winter Vegetables and Gnocchi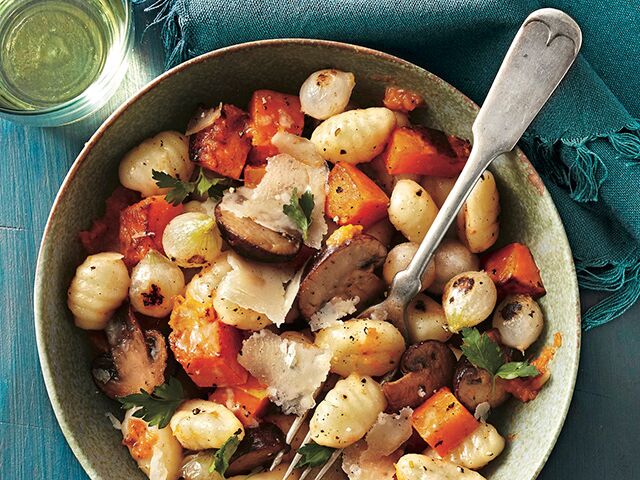 Pillowy gnocchi and hearty winter veggies make a perfect cold weather combo.
What You'll Need:
Serves 4
1 (12 oz) package pre-chopped fresh butternut squash
8 ounces cremini mushrooms, halved
1 cup frozen pearl onions, thawed
2 tablespoons extra-virgin olive oil
1 1⁄2 teaspoons kosher salt
1⁄4 teaspoon black pepper
1 (16 oz) package potato gnocchi (such as Gia Russa)
2 tablespoons salted butter, softened
2 ounces Parmigiano-Reggiano cheese, shredded (about 1⁄2 cup), divided
Chopped fresh flat-leaf parsley (optional)
Directions:
1. Toss together the butternut squash, mushrooms, pearl onions, olive oil, salt, and pepper. Spoon the vegetable mixture into a lightly greased 13- x 9-inch baking pan; place the pan in the oven. Preheat the oven to 450°F, leaving the pan in the oven as it preheats. Bake the vegetable mixture until the squash is tender and browned, about 20 minutes.
2. While the vegetables bake, prepare the gnocchi according to the package directions, reserving 1 cup of the cooking water.
3. Remove the vegetable mixture from the oven. Stir in the gnocchi and the softened butter. (Be careful—the pan will be hot.) Gradually add up to 1 cup of the reserved cooking water, 1⁄4 cup at a time, stirring until a slightly thick sauce begins to form. Stir in 1⁄4 cup of the shredded cheese. Sprinkle top with remaining 1⁄4 cup cheese. Divide the vegetable and dumpling mixture evenly among 4 bowls. Garnish with the chopped parsley, if desired, and serve immediately.