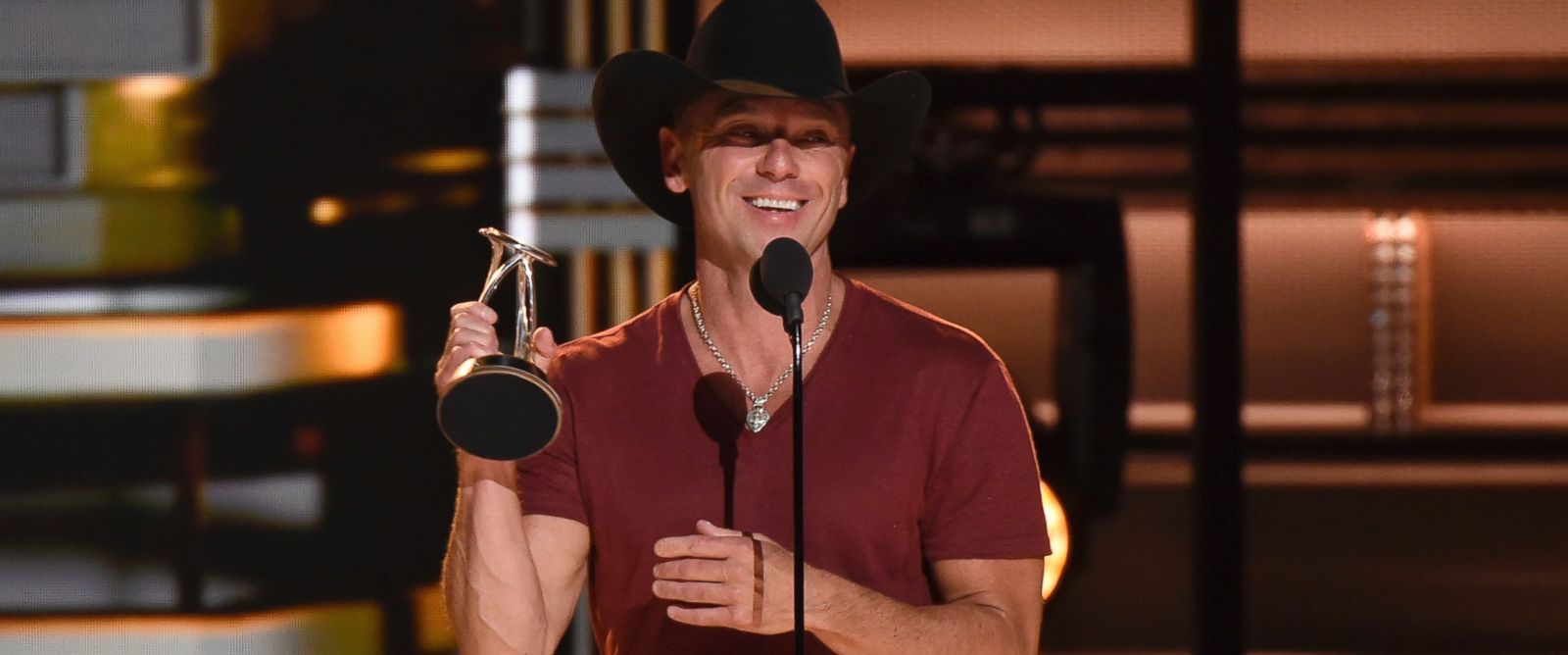 2016 Country Music Association Awards Winners
The Country Music Association Awards, theoretically a joyful night that celebrates country singers, had a common theme this year: tears.
Miranda Lambert wiped her eyes at the end of the show's emotional opener, which featured a medley of classic country songs that culminated in a singalong of "Forever and Ever, Amen" with Randy Travis, who suffered a near-fatal stroke three years ago. Thomas Rhett said he and Garth Brooks cried together during that performance. Songwriter Lori McKenna broke down when she won song of the year for Tim McGraw's "Humble and Kind."
Carrie Underwood and Maren Morris sobbed as they picked up their trophies for female vocalist and new artist, respectively. John Osborne wept when he accepted the prize for vocal duo of the year with his brother, TJ, who was trying not to cry. Kenny Chesney looked a little teary during his Pinnacle Award speech. Even Dolly Parton could barely keep it together after a group of female country singers paid tribute to her most famous songs.
"I would have cried, but I didn't want to mess up my eyelashes," Parton said. "I was doing my best!"
The people who should have been in tears were the producers, given that an incredibly tense World Series Game 7 was happening over on Fox, stealing many viewers. But despite the serious TV competition, this was one of the most entertaining CMA Awards in recent memory. A complete list of winners and nominees are below.
BEST
* That opening number.
The CMA producers promised the night would be stacked with legendary singers, given that it was the 50th anniversary of the show. They delivered in the opening minutes with Vince Gill; Roy Clark; Charley Pride, Alabama; Charlie Daniels; Reba, Dwight Yoakam; Clint Black; Ricky Skaggs; and Alan Jackson, singing their greatest hits. And don't even get us started on that aforementioned Travis moment or we'll start crying again.
The CMAs are made for crossover performances, and Beyoncé and the Dixie Chicks played off each other's energy as they sang "Daddy Lessons," a country-inspired track from Beyoncé's "Lemonade" album that the Chicks played on tour all summer. It was a triumphant return for the trio members, who have been a scarce presence in country music in the last decade, thanks to the Natalie Maines-George W. Bush comment controversy.
You have to give the co-hosts credit for their commitment to the bit. Much of their monologue was devoted to the endless presidential election, with a "This election is taking forever and ever, amen," joke, playing off Travis's famous song. Paisley also did his best Donald Trump impression, leaning into the microphone to say "WRONG" or "LIES" as Underwood talked, and then declared the show rigged. And yes, there were "basket of deplorables" and "nasty woman" jokes, too.
As country music writer Grady Smith pointed out, Morris — the 26-year-old Texas breakout artist who made a splash this year — got a huge sales bump from the show, with her debut album spiking to No. 2 on iTunes. That's likely the result of a riveting performance of her debut hit single "My Church," along with the Preservation Hall Jazz Band and the McCrary Sisters, which also shot up iTunes.
She also won new artist of the year: "Y'all, I can't win this award after performing. I'm gonna fall apart," Morris said to the crowd, in tears. "Last year, I sat across the street at a bar and watched this show. I never thought as a songwriter I'd be standing here today."
WORST
* Brad Paisley and Carrie Underwood's Tim McGraw and Faith Hill jokes.
Someone thought it was a good idea for Paisley and Underwood to have an extended sequence where they played (again!) with McGraw and Hill Barbie dolls, and then made jokes about the star couple's special alone time on the bus when they go on tour together next year. Does anyone really find this bit funny?
Entertainer of the Year
Garth Brooks — WINNER
Luke Bryan
Chris Stapleton
Carrie Underwood
Keith Urban
Album of the Year (Awarded to Artist and Producers)
Hero, Maren Morris
Mr. Misunderstood, Eric Church — WINNER
Storyteller, Carrie Underwood
Black, Dierks Bentley
Ripcord, Keith Urban
Female Vocalist of the Year
Kelsea Ballerini
Miranda Lambert
Maren Morris
Kacey Musgraves
Carrie Underwood — WINNER
Male Vocalist of the Year
Eric Church
Tim McGraw
Chris Stapleton — WINNER
Dierks Bentley
Keith Urban
Vocal Group of the Year
Lady Antebellum
Little Big Town — WINNER
Old Dominion
Rascal Flatts
Zac Brown Band
Song of the Year (Awarded to Songwriters)
"Die a Happy Man," Thomas Rhett
"Humble and Kind," Tim McGraw — WINNER
"My Church," Maren Morris
"Record Year," Eric Church
"Burning House," Cam
Vocal Duo of the Year
Brothers Osborne — WINNER
Dan + Shay
Florida Georgia Line
Joey + Rory
Maddie & Tae
New Artist of the Year
Kelsea Ballerini
Brothers Osborne
Maren Morris — WINNER
Old Dominion
Cole Swindell
Single of the Year (Awarded to Artist and Producer)
"Die a Happy Man," Thomas Rhett — WINNER
"Humble and Kind," Tim McGraw
"My Church," Maren Morris
"Nobody to Blame," Chris Stapleton
"Record Year," Eric Church
Musical Event of the Year
"Different for Girls," Dierks Bentley feat. Elle King — WINNER
"Home Alone Tonight," Luke Bryan feat. Karen Fairchild
"The Fighter," Keith Urban feat. Carrie Underwood
"Think of You," Chris Young with Cassadee Pope
"You Are My Sunshine," Morgane Stapleton with Chris Stapleton
Music Video of the Year (Awarded to Artist and Director)
"Fire Away," Chris Stapleton — WINNER
"Humble and Kind," Tim McGraw
"Record Year," Eric Church
"Somewhere on a Beach," Dierks Bentley
"Burning House," Cam
Musician of the Year
Jerry Douglas
Paul Franklin
Dann Huff — WINNER
Brent Mason
Derek Wells
Pinnacle Award
Kenny Chesney