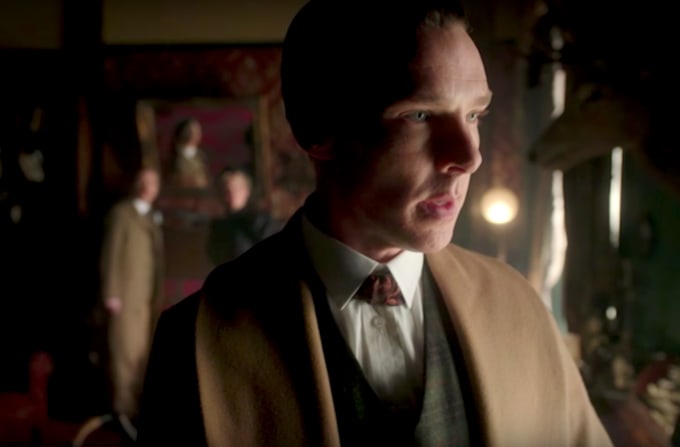 In recent years, British television has made huge waves in mainstream American pop culture. TV from across the pond has been making its way Stateside for years, often thanks to PBS, which has for years imported shows like Doctor Who— the addictive sci-fi series about an alien named "The Doctor" who travels around in blue police box that doubles as a time machine— and Downton Abbey, an equally addictive period drama/soap opera that's just as scandalous and engaging as any show The CW, just with more tophats and corsets.
But, with the rise of streaming services like Amazon Prime and Netflix, there are more opportunities outside of public television than ever before for U.K.-produced comedies and dramas to find a happy home on U.S. television. And there's also more of an audience hungry for these shows than ever before. Don't believe us? Just browse Tumblr, and there's a one-in-three chance that the blog you'll stumble upon is run by someone who's obsessed with a show from British channels like the BBC or Channel 4. And don't be surprised if that show is Sherlock.
Though the series runs tend to be short and the episode counts low compared to U.S. programming, there's some seriously great television coming from the United Kingdom beyond just those marquee names mentioned above. From crime dramas like Luther, to groundbreaking, personal comedies like Fleabag that aim to make viewers laugh as often as they make them uncomfortable, the world of British television is as varied and expansive in tone and topic as everything we have here. In honor of its excellent programming, here's a foolproof list of  British TV shows you should be watching. Some of these shows are still running, while others have wrapped already, making them prime binge-watching candidates. Either way, we promise you won't be disappointed.
The Hour
The most underrated of British television shows: The Hour. Starring Skyfall's Ben Whishaw alongside The Wire's Dominic West and Atonement's Romola Garai, it's a seamless mix of drama, espionage, and suspense. Also, it's set in late 1950s Britain, which just makes everything better.
Following a group of journalists producing a news magazine, The Hour focuses on their investigative journalism efforts, mostly centered on actual, major historical events. The show is packed with consistently great performances from its gigantic cast, not only from the aforementioned Whishaw, West, and Garai, but also co-stars Oona Chaplin, Peter Capaldi, and Anna Chancellor. After two seasons, the series was cancelled. Injustice!
This is England
This is England is technically a group of different miniseries, but considering that most British television shows can essentially be viewed as miniseries due to their small amount of episodes, it counts. Based on the 2006 film, which surrounded a young schoolboy pulled into the skinhead and apolitical, nationalist cultures, the TV version starts off three years later with This is England '86.
In the show, a lot has changed. The misfit teens from the film who were only interested in having fun are grown up, and their lives are changing. Woody (flawlessly portrayed by Misfits star Joe Gilgun) is attempting to hold down a real job; his girlfriend Lol (Vicky McClure), is dealing with the return of her abusive father; and the film's protagonist, the now-16-year-old Shaun (Thomas Turgoose), is trying to keep out of trouble after being swayed by nationalistic and racist views courtesy of older skinhead Combo (Stephen Graham).
This is England is a rare case of a television series being better than the film it's based on. Somehow, it's able to remain both darkly dramatic and humorous at the appropriate times. After that series' four episodes, This is England '88 is set two-and-a-half years after the finale of '86 , and followed by a final series, called, you guessed it, This is England '90.
Doctor Who
When it comes to the most well-known British imports, nothing beats Doctor Who. Currently holding the title of the longest-running sci-fi television show in the world, the series originally premiered on BBC in 1963, where it ran until 1989 before it was taken off the air. Then, in 2005, it was retooled by Russell T. Davies. Since then, Doctor Who has been a huge success for the network, across the entire world—so much so that, even after years back on the air, it's still besting ratings records set by, that's right, Doctor Who itself.
Not many shows can maintain the ability to inspire an emotional catharsis in its viewers while presenting ridiculous-looking foes like evil snowmen, weeping angel statues, and aliens that roll around in metal tanks, but Doctor Who seems to do it effortlessly.
Plus, when you think about it, it's a genius concept. Here's a main character who can never really die, living in a time machine that allows him to travel between planets, universes, and realities. Actors may age as time goes on, but the show's got a solution for that: The Doctor regenerates into a new body every few years, allowing the series to shuffle around actors after a couple of seasons. It also doesn't hurt that The Doctor always travels with a young, hot, female companion in tow.
Black Mirror
Any show that can be described as a hybrid of The Twilight Zone and Tales of the Unexpected is a must watch. Black Mirror follows the anthology series-style of hit shows like American Horror Story, except each episode has a different cast, setting, and reality. Yeah, you read that right: each episode.
The show explores the dark side of technology to make social commentary on the world at large. At first its satire is entertaining, but then it becomes pretty frightening once you realize how believable and accurate it is, especially in this technology-driven age. Word to the wise: Watch this one with a friend, or else you'll end up at home with your doors locked, your shutters closed, paranoid out of your mind like that time you tried molly.
Luther
And you thought Idris Elba was a beast on HBO's The Wire. On Luther, he stars as the titular John Luther, a Detective Chief Inspector with London's Metropolitan Police in the Serious Crimes Unit. Accordingly, he's seen some serious shit that's affected him in less than ideal ways—it's all made him into someone who's got a very distinct idea of what good and evil is, even though he operates in an extremely morally gray area.
Luther sticks closely to Elba as he solves various crimes and deals with his inability to live a well-adjusted, normal life. It's always refreshing when, as a viewer, you can tell that a TV show's producers aren't underestimating the audience's collective intelligence with hokey dialogue and lazy plot-lines. You'd be hard-pressed to find a character who's as compelling as the genius, paranoid, sociopathic, malignant narcissist Alice Morgan (Ruth Wilson), especially when it comes to her dynamic with Luther.
Sherlock
The story of Sherlock Holmes is an old one, but it continues to inspire filmmakers. There is the Robert Downey Jr./Jude Law film in 2009 that was memorable. But, since it was, for the most part, a silly comedy, it can't quite hold the same emotional depth as BBC One's Sherlock, set in modern-day London.
Starring Hollywood hot boy Benedict Cumberbatch (Star Trek Into Darkness) and Martin Freeman (Bilbo Baggins in The Hobbit: An Unexpected Journey) as Holmes and Dr. Watson, respectively, it's an extremely engaging take on the Sir Arthur Conan Doyle classic. Sherlock takes a lot of the same stories and villains, but modernizes them. For example, Jim Moriarty (Irish actor Andrew Scott), one of Sherlock's most popular enemies from the books, is a huge part of the series.
While many modern crime shows can be lazily procedural, Sherlock manages to escape that rut with tightly written episodes and compelling plots.
Catastrophe
If you don't like cliffhangers, be warned: Each season of the critically acclaimed comedy Catastrophe ends by wrapping up some plot points while leaving others shockingly unsettled. The show features writer-creators Rob Delaney and Sharon Horgan playing a seemingly mismatched duo who agree to try to make their relationship work after a one night stand leads to pregnancy. Laugh-out-loud one-liners, moments of surprising depth and poignancy, and a supporting turn from the late, great Carrie Fisher as Rob's mother all make Catastrophe essential viewing for TV fans who want their comedy spiked with just the right amount of cynicism.
Fleabag
At a time when viewers are used to their dramas offering unexpected twists and character reveals, it's worth noting how well a sense of genuine surprise can serve comedies, as well. As the nameless lead identified only as Fleabag, creator Phoebe Waller-Bridge mines her character's selfish, hedonistic response to tragedy for laughs. And when Fleabag tries to correct the error of her ways, Waller-Bridge shows off just how deftly she can weave a story that is amusing, relatable, heartbreaking, and, in a twisted way, life-affirming, too.