In your trick or treat bag this year we are cutting down on the sugery confections and desided to give you some vacastions that are Scary cool and develishly different.  Spooky SPY takes you on this unique October journey to visit our top picks for the 12 most unique, if not down right strange, destinations. You can thank us later.
Without deviation from the norm, progress is not possible. These strange but wonderful worlds are just sitting there waiting for you to re-discover them. Warning these are places where the money falls apart, but you can't tear the toilet paper. Sometimes you gotta create what you want to be a part of
Now boarding…………..
Number 1: The Real Valley Of The Dolls
This is not a nightmare. It's La Isla de las Muñecas, a real place located in a southern borough of Mexico City on a man-made island that for decades has been home to hundreds of dilapidated dolls
Santana died of a heart attack in 2001, and a small white cross near the water marks his grave. His cousin Anastasio now lives on the island, running it as a tourist attraction. "The spirit of the little girl is still here," he says. "It's important not to remove the dolls."
At night, he says, they come alive. "They will move their heads and whisper to each other. It's very spooky, but I have gotten used to it."
Number 2: All Sand, No Surf, Welcome To Muynak, Uzbekistan
Bring lots of sun screen and bottle water. Welcome to Moynaq (also spelled as Muynak and Moynaq) a city in northern Karakalpakstan in western Uzbekistan. Half a century ago, the city was located on the shore of the Aral Sea, a proud fishing community and the largest port in Karakalpakstan's. In the heydays, Muynak and other towns on the Aral were hauling 160 tons of fish each day from its shimmering waters. Today, Muynak is separated from the sea by more than 150 kilometers. Formerly one of the four largest lakes in the world with an area of 68,000 square kilometres, the Aral Sea has been steadily shrinking. Vessels that once floated in the waters now stand rusting in the sun at the famous ship graveyard. But how did this happen?
In the 1940s, ambitious Soviet planners embarked on a massive water program designed to make the desert bloom. It was decided that the two rivers that fed the Aral Sea, the Amu Darya in the south and the Syr Darya in the northeast, would be diverted to irrigate the desert, in an attempt to grow rice, melons, cereals, and cotton. By 1960, between 20 and 60 cubic kilometres of water were going each year to the land instead of the sea. With most of the sea's water supply gone, the Aral Sea began to shrink. From 1961 to 1970, the Aral's sea level fell at an average of 20 cm a year; in the 1970s, the average rate nearly tripled to 50–60 centimetres per year, and by the 1980s it continued to drop, now with a mean of 80–90 centimetres each year. By 2007, the Aral sea had declined to 10% of its original size.
Aral sea in 1989 and 2008
Number 3: The Hills Have No Eyes….. Or People
So whats cooking. That smell like something is just night right. I can only compair to my sister's cooking. The whole town is in on the cook out or is it in this case a cook in? The burning ghost town known as Centralia PA was first known as the "Bull's Head". Well the entire town is now a hunk of burning love.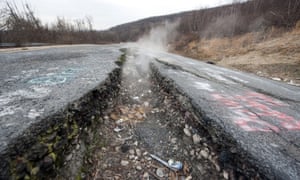 The town was once a stopping place for travelers. The town had no idea of the potential of wealth and future destruction lying beneath it's rugged surface. Under the town were the store houses of a vast mineral wealth. But during the succeeding thirty years rumors of discoveries of coal and iron began to be circulated and credited. The confirmation of these reports caused a fever of excitement among the capitalists of the period.
On various pretexts, the land commissioners were induced to issue warrants for the resurvey of some of the most valuable portions of the anthracite coal region during 1830 and the following years.
No one knows exactly how it started, but a coal vein has been burning under the Pennsylvania mining town of Centralia since 1962. Some trace it back to careless trash incineration in a landfill next to an open pit mine, which ignited a coal vein.
The fire crawled, insidiously, along coal-rich deposits far from the miner's pick, venting hot and poisonous gases up into town, through the basements of homes and businesses.With dawning horror, residents came to realize that the fire was not going to be extinguished, or ever burn itself out.
This hellish landscape constitutes about all that remains of the once-thriving town of Centralia, Pennsylvania. Forty-three years ago, a vast honeycomb of coal mines at the edge of the town caught fire.
An underground inferno has been spreading ever since, burning at depths of up to 300 feet, baking surface layers, venting poisonous gases and opening holes large enough to swallow people or cars. The conflagration may burn for another 250 years, along an eight-mile stretch encompassing 3,700 acres, before it runs out of the coal that fuels it.
Remarkably enough, nobody's doing a thing about it. The federal and state governments gave up trying to extinguish the fire in the 1980s. "Pennsylvania didn't have enough money in the bank to do the job," says Steve Jones, a geologist with the state's Office of Surface Mining. "If you aren't going to put it out, what can you do? Move the people."
Nearly all 1,100 residents left after they were offered federally funded compensation for their properties. Their abandoned houses were leveled. Today Centralia exists only as an eerie grid of streets, its driveways disappearing into vacant lots.
Remains of a picket fence here, a chair spindle there—plus Lokitis and 11 others who refused to leave, the occupants of a dozen scattered structures. Lokitis, 35, lives alone in the house he inherited from "Pop"—his grandfather, a coal miner, as was Pop's father before him.
For fans of the macabre, lured by a sign warning of DANGER from asphyxiation or being swallowed into the ground, Centralia has become a tourist destination. For Lokitis, it is home.
Centralia, Pennsylvania went from a bustling mining town to the home of only about 10 people after the coal veins under the city caught fire. It was the set inspiration for the horror movie Silent Hill.
Number 4: It is a Small Unfinished World After All
If you woke up one morning in an alternative universe and Disneyland was a mere memory of a failed experiment (oh be still my heart) this is what this small world is like after all. No monorail, no tourist in fact there is little wonder in wonderland. Even Alice and the mad-hatter couldn't live her anymore.
Wonderland in China was supposed to be a Chinese take on Disneyland until construction problems halted the project and left it abandoned.
On the outskirts of Beijing investors envisioned a project that would rival Disneyland. An amusement park for an entire continent – with dreams of attracting millions of visitors each year. Ultimately this dream did not transpire; at least not on the pompous level that was expected.
Instead, construction of Wonderland Amusement Park continued for some time until contractors fell into a dispute with local officials and all work was halted in 1998. What was abandoned was an entrance facade with all the wonder of Disneyland, but beyond this a ghostly world existed.
Over 15 years the unfinished, decrepit buildings had become playgrounds for graffiti artists. Squatters could be heard whispering at the ends of long shadowy corridors, and farmers had reclaimed the open land for crops.
And the most magnificent failure; the skeletal structure of the 'fairytale' castle in all its unfinished glory. This derelict, abandoned amusement park was the perfect setting for film makers to capture its horror movie essence. It could also have provided the backdrop to a b horror movie.
Wonderland Amusement Park created its own mysteries where silence and darkness existed as one. Eerie children's masks lay cracked and scattered across the floor. It was possible to scale the castle's spires where one could observe Wonderland in all its beautiful solitude; but only if you first dared to climb the pitch black spiral staircases which led to the top. What was a nightmare to some provided curious adventure to others.
Number 5: No Thunder Down Under
Feeling a bit mole-ish with the current world situations and convened the world is going to hell in a hand basket. Well why not bet them since it is unthinkable to join them. Have we got the perfect underground world for the paranoid traveler in all of us. Go no further than down under to Coober Pedy.
Coober Pedy is a town in northern South Australia, 846 kilometres north of Adelaide on the Stuart Highway. According to the 2011 census, its population was 1,695 (953 males, 742 females, including 275 indigenous Australians).
The town is sometimes referred to as the "opal capital of the world" because of the quantity of precious opals that are mined there. Coober Pedy is renowned for its below-ground residences, called "dugouts", which are built in this fashion due to the scorching daytime heat.
Opal was found in Coober Pedy on 1 February 1915; since then the town has been supplying most of the world's gem-quality opal. Coober Pedy today relies as much on tourism as the opal mining industry to provide the community with employment and sustainability. Coober Pedy has over seventy opal fields and is the largest opal mining area in the world.
Coober Pedy in the Australian outback is an underground town including churches, stores, and even an award-winning hotel. The ground provides a nice relief from the heat, which can reach up to 125 degrees.
Around 150 million years ago, Coober Pedy was covered by ocean – and when the water receded, the sandy silica minerals from the seabed flowed into the rocky cracks and cavities and solidified over time into multi-coloured gem-stone – opal.
In January 1915, the New Colorado Prospecting Syndicate, consisting of Jim Hutchison and his 14 year old son William, PJ Winch and M McKenzie had unsuccessfully been searching for gold south of Coober Pedy. The men had set up camp and were searching for water when young Willie found pieces of opal on the surface of the ground. This was on the 1st February 1915 and 8 days later the first opal claim was pegged.
Coober Pedy was originally known as the Stuart Range Opal Field, named after John McDouall Stuart, who in 1858 was the first European explorer in the area. In 1920 it was re-named Coober Pedy, an anglicised version of Aboriginal words "kupa piti", commonly assumed to mean "white man in a hole".
Much of the town's treasures – like its opal – can be found underground. Local organised tours or your own walking tour can be organised through the Visitor Centre.
Here is just a taste of what's on offer…Take a true DownUnder trip into a "dugout" home – made by mining families – with some more like mansions, covering 450 square metres. More than half of the town's families live underground, where temperatures are maintained at a pleasant 23-25 degrees C throughout the year.
There are underground churches and art galleries too – plus the award-winning Desert Cave Hotel, the world's first 4-star luxury property of its type, complete with mining display and opal gallery.
The historic Old Timers Mine – hand-dug in 1916, features a self-guided walk through tour of display galleries, two underground homes and precious seams of opal, while the Umoona Mine & Museum contains an underground house, Aboriginal interpretive centre, panoramic theatre, historic displays, opal retailing shop and showroom plus Aboriginal arts and crafts.
And if you like to buy opals, you'll find the world's largest displays in Coober Pedy. You can also esquire at the Visitor Center how to "noodle" through permitted mine areas to seek your own gemstones.
It is believed that the soldiers who returned from the trenches of France during the First World War introduced the idea of living underground in homes commonly known as "dugouts". The miners quickly discovered the advantages of living underground to escape the heat of the summer and winter's cool desert nights.No matter how harsh the climate, the underground rooms maintain a comfortable, even temperature ranging from 23ºC to 25ºC day and night throughout the year.It is estimated that about 50% of the population live underground now.
Most dugout homes are excavated into hillsides rather than dug from shafts. The soil in the Coober Pedy hillside is stable enough to allow huge ceiling spans in rooms and it is not unusual for a mining family to buy an adjoining property and tunnel to link two dwellings, or even three or four. Some mansion style homes spread up to 450 square meters underground.
Number 6: Holding Up The Fort (The Maunsell Sea Forts in England)
During World War II, the United Kingdom was facing some serious attacks from the sky, and to help minimize the damage done by the Luftwaffe, British engineer Guy Maunsell developed a clever strategy: take to the sea. Though now defunct, these incredible concrete monsters are still standing out at sea, impressive as ever.
One of the forts still remaining—Red Sands Army Fort—sits rusting off the coast of England's Herne Bay. Built on land before being floated out to sea in 1943, the septet of towers were once connected by walkways and boasted an arsenal of anti-aircraft cannons for taking down airborne enemies. Its twin, the Red Sand Army Fort, is also still standing in the Thames estuary.
Ultimately, all the sea forts were decommissioned by the late 1950s, and several were destroyed after collisions with civilian ships, but the Shivering Sands (above), Red Sands, and Fort Roughs (below) remain to this day.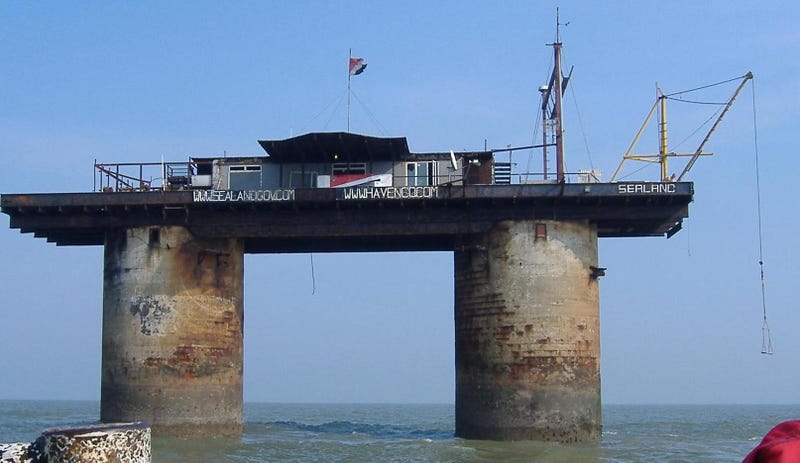 Both went on to have adventures after their decomission and abandonment; Shivering Sands was briefly home to pirate radio operators in the mid-1960s, and Fort Roughs is currently home to the Principality of Sealand, the self-proclaimed and globally-unrecognized "world's smallest nation."
While their useful lives were short, these forts are incredible relics of WWII architectural history, and it's awesome just to know they exist. I can only imagine what they're like in real life. Who wants to go on a field trip?
Number 7: Zombie Apocalyptic Squattersville. Welcome To Slab City CA.
It takes awhile to get to the last free place in America. It's 140 miles east of San Diego where farmland turns to dusty towns, which turns to parched desert.
An abandoned guard post covered in graffiti tells us we're close. There hasn't been a guard here for more than 60 years. This used to be a Marine training base called Camp Dunlap. The military pulled out after World War II and left concrete.
Slab City, California is a campsite inhabited by those who want to live off of the grid and called "The Last Free Place in America"
Years later, those slabs drew snowbirds in RVs looking for a free place to park and stretch retirement dollars. They also inspired what would become the community's name: Slab City.
Snowbirds still come to the Imperial County spot for the winter months, though the population is shrinking. The rest, roughly 200 people, call Slab City home year-round. Temperatures can be as high as 120 degrees in the summer.
Some come to the Slabs to escape modern society. Many are destitute. Others just don't want to be found. A few are fugitives or drug addicts. Others are young nomads. There's even a population of modern day hobos — Slabbers call them "train kids" — who come through on a regular basis.
Builder Bill said the Slabs are also freedom: freedom from rent, freedom from zoning laws and freedom from harassment.
"At Slab City you can just sit down and occupy a spot on the planet without any indebtedness or persecution," he said.
But freedom has a price. There's no electricity here. No water. No sewer system.
It may be free, but it's also free from garbage pickup. The land is covered in trash.
"It's just a piece of useless, unwanted, unusable desert," Builder Bill said. "And that's why we've been allowed to be here all of these years, because they didn't have to look at us."
The state of California has tried to sell the land in the past without luck. No one knows how much it would cost to clean it up.
Munitions and military waste could be buried on the land. The federal government is looking into that now.
People have lived on Slab City's 640 acres for decades. They are squatters on state-owned land. They don't pay rent, and so it's often referred to as "the last free place in America."
But that freedom is getting more tenuous. The state is considering selling the land. Talk of the sale has spurred some residents to organize and take a leadership role. They've applied to buy the land. That frightens others who believe landlords, government and rules will follow, all of which run counter to how Slab City operates. They say it could destroy the "live and let live" philosophy of the Slabs.
Everyone who lives here wants to save Slab City. But can they preserve its freedoms in the fight to save it?
The end of the rope
There are no stop signs on Slab City's dirt roads. Makeshift homes are made out of old school buses, broken down trailers or tents with added pallets and blankets for sturdiness. There are fancier RVs, too. Some have solar panels. There's a church and a new library.
Every year, the residents do the unlikeliest thing. They throw a prom. They say they do it because so many of them didn't attend their own proms.
Bill Ammon was setting up for the big night. He goes by Builder Bill, a name leftover from the days when Slab City residents, or Slabbers, communicated by CB radio (other local handles on the CB were Toy Man, Rooster and Gold Man).
Builder Bill runs The Range, Slab City's outdoor music venue. There's a stage between two buses. Torn couches and ratty chairs provide the seating under strings of café lights. Builder Bill's wife, Robin, has been gathering prom dresses from thrift stores for people to borrow.
Builder Bill was working construction in San Diego 16 years ago. Jobs dried up and soon he was living out of a van. He got tired of the police telling him to "move on."
He heard rumors about Slab City. "When it's time to get out of Dodge, you have to go somewhere right?" Builder Bill said.
He calls this desert community the end of the rope.
"You know you can retreat, retreat and retreat, and there's one last little knot on the end of the rope," he said. "That's Slab City."
Slab City's East Jesus
The state is open to selling the land again. The nonprofit group that oversees Salvation Mountain, a nearby artwork and tourist draw, is applying to buy the land the mountain sits on. The East Jesus Art Collective, which operates an artist residency and sculpture garden at the edge of Slab City, has applied to buy that land, which would leave close to 500 acres of Slab City up for grabs.
And for the first time, Slab City residents are applying to buy it.
"I got to thinking, if the state is getting ready to unhorse this land, we all depend on this place," Builder Bill said. "I thought we better do something."
If not us, who?
Slab resident and board member Lynne Bright put together the application to buy the land.
Bright is a former attorney from Canada who has lived in the Slabs for more than six years. Her late husband, Mike Bright, was a longtime resident and Builder Bill's sparring partner at Scrabble. We talked under a sprawling Palo Verde tree in front of her trailers. Bees hummed overhead. Her husband's favorite recliner sat empty in a corner. He died just over a year ago of cancer.
Bright said they need to preserve Slab City from outside development and the encroachment of "the beast," a term some Slabbers use to describe the world outside their community.
"If we do nothing and don't organize, then who is the head that's going to pop up and say, 'Wait a minute, not here?'" Bright said. "Who is going to do that?"
It's not clear who would want to buy and develop this land. Slab residents have many theories.
"Solar energy, geothermal energy, wind energy, this whole valley is open to that," Bright said.
The state said that's unlikely, but the mere threat of a sale has shifted the thinking in this community. And that has some residents concerned.
Fear of having a landlord
Gary Brown came to Slab City seven years ago. He was an IT consultant who took a sabbatical. When he tried to re-enter the industry in 2008, at age 56, it was tough.
"Who wants to hire an ugly old man when you can get a kid from Mumbai for 25 bucks?" Brown said.
Brown's RV has solar panels. He devised a way to live more comfortably through the summers by building an insulated room inside it. He can control the temperature inside. He calls it the cool cube. It's big enough for a small desk and his computer.
Brown is adamantly against Slab residents organizing to purchase the land. He said that would bring the one thing Slabbers fear most: a landlord.
"If this place has to submit to building codes, the Slabs go away," Brown said.
He wants the Slabs to be there for people who hit rock bottom — including those fighting mental illness.
"So that the really crazy people can at least live and fit in. And I think that's important," Brown said. "It went a long way in slaying my demons.
"There are a bunch of like-minded souls around here, scratching out an existence. This place needs to continue so they have somewhere to go."
Bright said those who want to buy Slab City have no intention of charging rent. She also believes it's time for the residents to have some control over their future. It was her husband and Builder Bill who came up with the tag line, "the last free place in America."
"We're going to have to help in a positive way in terms of cleanup," Bright said. "And we're going to have to engage with different levels of government.
"We're going to have to grow up. And still maintain, somehow, the last free place in America."
Number 8: The Gates Of Hell, Open For Business.
When you hear that the gates of Hell are not only open but you can now tour it, what is the first thing you think of?
Yes the Republican party headquarters exactly me too, but the second or third thing that pops to mind is Derweze. For those not in the know Derweze is a small village in Turkmenistan, and not far from the village, in the middle of the Karakum Desert is where there is a giant burning hole in the ground!
This hole is called by the locals "The Door to Hell".
Soviet geologists (back in the early 70's) held surveys around the area when in one drilling their rig collapsed into the ground creating a 70 meter wide hole in the desert. Since the hole was filled with poisonous and inflammable gases (just like the Republican party headquarters), they decided to light it up so the fire will consume the gas. OOPS they miscalculated and the fire is burning constantly since 1971.
The Door to Hell in Turkmenistan is a pit of fire that has been burning for over 40 years after a gas field was set on fire by the Soviets.
Goes to show you people love a big burning hole.
"It takes your breath away," literally said Gozel Yazkulieva, a 34-year-old visitor from the Turkmenistan capital Ashgabat. "You immediately think of your sins and feel like praying." So he says. I on the other hand think OK boys grab the meat its BBQ time.
Few foreigners have seen the crater in the heart of the Karakum, one of the world's largest deserts, although Turkish authorities are hoping to change that as they seek ways to bolster tiny visitor numbers to the former Soviet republic.
Still one of the world's most isolated countries almost a quarter-century after the fall of the Soviet Union, Turkmenistan welcomes just 12,000 to 15,000 tourists from around 50 countries each year.
Tourism officials say the Door to Hell, also called the Derweze crater after a nearby village, could be developed into a key draw for adventure tourists.
One idea of throwing a virgin into the fire as part of the dinner show was eliminated from the last tourism meeting primarily due to the lack of fresh virgins in Turkmenistan. Good to know.
"The 'lifeless' desert could soon become a hugely interesting destination for different types of tourism — from eco-tourism to extreme sports," he said.
The Karakum, or Black Sands, covers 80 per cent of the Central Asian republic. In summer, temperatures soar to more than 50 degrees C, while in winter they plunge to minus 20 C.
There are no road signs to the pit some 270 kilometers north of the capital, but guides know where to turn onto a track leading to a fantastic view.
Flames dance out of cracks in its floor and around the sides, and a burning blast of air emanating from the pit shifts with the wind. A pyromaniac dream vacation.
The extreme heat and the roar of the flames have a mesmerizing effect.
The region's diversity of flora and fauna also made it ripe for scientific and eco-tourism.
Landmarks such as the burning crater are hugely interesting both to people who love to travel and to researchers in various areas.
Travelers could go on safari in jeeps and quad bikes or ride camels along the shifting sand dunes of the Karakum, the state tourism official suggested.
"Our main task is to create an attractive image of Turkmenistan as a tourism destination," he said.
Number 9: Gas Mask Fever, The Island Most Fashionable Accessory
Heading to the store? Don't forget your gas mask. Despite the high level of volcanic activity that causes poisonous gas to leak from the earth and in 2000 forced 3,600 residents to evacuate the island of Miyakejima, Japan, some island denizens just can't stay away.
Resting atop a chain of volcanoes, Miyakejima is a hub for volcanic activity. Over the past century, the volcanoes have erupted six times. The worst of these occurred in June 2000 when, after a repose of 17 years, Mount Oyama erupted. 17,500 earthquakes followed the eruption, which hit the island between June 26 and July 21.
During the assault of eruptions and earthquakes, ash plumes soaring 10 miles high enveloped Miyakejima, and heavy ash fell as craters collapsed. Later, high levels of toxic sulfur dioxide would regularly rise up through the ground, making 20 percent of the land uninhabitable. After three months, the government took action and forced a mass evacuation in September.
For five years, Miyakejima was declared off-limits, with the barren island resembling a post-apocalyptic world. Dead trees and rusted cars peppered the derelict space. Mount Oyama continued to emit 10,000 to 20,000 tons of sulfuric dioxide gas from its summit every day for two years following the eruption. Slowly, though, the evacuation order began to lift, and in 2005 citizens were allowed to return to their homes.
Some opted to remain in their relocated houses in Tokyo, but about 2,800 chose to return – this time with gas masks. Despite the re-populating of the island, nearly a third of Miyakejima remains permanently off-limits and the government conducts regular health checks and enforces age restrictions in certain areas.
While life in a gas-soaked village poses a number of dangers, it hasn't kept tourists away. Gas mask tourism is a huge draw for the region, with disposable masks sold at ferry stations and local stores.
Visitors can also take tours of abandoned houses, flattened cars and a school gym half-destroyed by lava, as well as hot spring baths – ostensibly for when self-awareness hits and visitors realize that they find disaster enjoyable enough to pay for.
Residents of Miyake-jima Island, Japan are required to always carry a gas mask with them due to their close proximity of Mt. Oyama, an active volcano that last erupted in 2000.
Number 10 Oradour-sur-Glane, The Village Of The Damned
As the world tries to find any form of understanding in the shootings in Paris this week when the innocent where shot and killed all to make a point. The point is we do because we can and no one can stop us. It was not so long ago where another terrorist group used the same tactic. FEAR.
On 10 June 1944, the village of Oradour-sur-Glane in Haute-Vienne in then Nazi-occupied France was destroyed, when 642 of its inhabitants, including women and children, were massacred by a Nazi Waffen-SS company. A new village was built nearby after the war, but French president Charles de Gaulle ordered the original maintained as a permanent memorial and museum.
In February 1944, the 2nd SS Panzer Division ("Das Reich") was stationed in the Southern French town of Valence-d'Agen, north of Toulouse, waiting to be resupplied with new equipment and fresh troops. Following the D-Day invasion of Normandy in June, the division was ordered north to help stop the Allied advance. One of its units was the 4th SS Panzer Grenadier Regiment ("Der Führer").
Its staff included regimental commander SS-Standartenführer Sylvester Stadler as regimental commander, SS-Sturmbannführer Adolf Diekmann commanding the 1st Battalion and SS-Sturmbannführer Otto Weidinger, Stadler's designated successor who was with the regiment for familiarisation. Command passed to Weidinger on 14 June.
Early on the morning of 10 June 1944, Diekmann informed Weidinger that he had been approached by two members of the Milice, a paramilitary force of the Vichy Regime. They claimed that a Waffen-SS officer was being held prisoner by the Resistance in Oradour-sur-Vayres, a nearby village. The captured officer was claimed to be SS-Sturmbannführer Helmut Kämpfe, commander of the 2nd SS Panzer Reconnaissance Battalion (also part of "Das Reich" division).
He may have been captured by the Maquis du Limousin the day before. Stadler ordered Diekmann to have the mayor choose thirty people to be hostages in exchange for Kämpfe.
On 10 June, Diekmann's battalion sealed off Oradour-sur-Glane and ordered all the inhabitants – and anyone who happened to be in or near the town – to assemble in the village square to have their identity papers examined. The SS also arrested six people who did not live in the village but merely happened to be riding their bicycles through there when the SS unit arrived.
The women and children were locked in the church and the village was looted. The men were led to six barns and sheds, where machine guns were already in place.
According to a survivor's account, the SS men then began shooting, aiming for their legs. When victims were unable to move, the Nazis covered them with fuel and set the barns on fire. Only six men managed to escape. One of them was later seen walking down a road and was shot dead. In all, 190 Frenchmen died.
The SS men next proceeded to the church and placed an incendiary device beside it. When it was ignited, women and children tried to escape through the doors and windows, only to be met with machine-gun fire. 247 women and 205 children died in the brutal attack.
The only survivor was 47-year-old Marguerite Rouffanche. She escaped through a rear sacristy window, followed by a young woman and child. All three were shot, two of them fatally. Rouffanche crawled to some pea bushes and remained hidden overnight until she was found and rescued the next morning. About twenty villagers had fled Oradour-sur-Glane as soon as the Stormtroopers had appeared. That night, the village was partially razed.
Several days later, the survivors were allowed to bury the 642 dead inhabitants of Oradour-sur-Glane who had been killed in just a few hours. Adolf Diekmann said the atrocity was in retaliation for the partisan activity in nearby Tulle and the kidnapping of Helmut Kämpfe.
On 12 January 1953, a military tribunal in Bordeaux heard the charges against the surviving 65 of the 200 or so SS men who had been involved. Only 21 of them were present, as many were now in East Germany, which would not permit their extradition. Seven of those charged were German citizens, but 14 were Alsatians, French nationals of German ethnicity. All but one of the Alsatians claimed to have been forced to join the Waffen-SS. Such forced conscripts from Alsace and Lorraine called themselves the malgré-nous, meaning "against our will".
On 11 February, 20 defendants were found guilty. Continuing uproar in Alsace (including demands for autonomy) pressed the French parliament to pass an amnesty law for all the malgré-nous on 19 February. The convicted Alsatian former SS men were released shortly afterwards. However, this caused bitter protests in the Limousin region.
By 1958, all of the German defendants had also been released. General Heinz Lammerding of the Das Reich division, who had given the orders for retaliation against the Resistance, died in 1971, following a successful entrepreneurial career. At the time of the trial, he lived in Düsseldorf, in the British occupation zone of West Germany, and the French government never obtained his extradition.
The last trial of a Waffen-SS member who had been involved took place in 1983. Former SS-Obersturmführer Heinz Barth was tracked down in the German Democratic Republic. Barth had participated in the Oradour-sur-Glane massacre as a platoon leader in the "Der Führer" regiment, commanding 45 Stormtroopers. He was one of several charged with giving orders to shoot 20 men in a garage. Barth was sentenced to life imprisonment by the First Senate of the City Court of Berlin. He was released from prison in the reunified Germany in 1997 and died in August 2007.
On 8 January 2014, Werner Christukat, an 88-year-old former member of the 3rd Company of the 1st Battalion of the "Der Führer" SS regiment was charged, by the state court in Cologne, with 25 charges of murder and hundreds of counts of accessory to murder in connection with the massacre in Oradour-sur-Glane.
The suspect, who was identified only as Werner C., had until 31 March 2014 to respond to the charges. If the case went to trial, it could have possibly been held in a juvenile court because the suspect was only 19 at the time. According to his attorney, Rainer Pohlen, the suspect acknowledges being at the village but denies being involved in any killings.
On 9 December 2014, the court dropped the case citing a lack of any witness statements or reliable documentary evidence able to disprove the suspect's contention that he was not a part of the massacre.
Number 11: When Aircraft Go Here, They Are in Grave Danger.
This place is eye candy for the plane enthusiasts.It is also a bit sad to see all the old girls put out to pasture and forced retirement. Many are gone for good (Tear PAN AM). Welcome to the boneyard.
At Davis-Monthan Air Force Base, within sight of Interstate 10, contains a storage facility known to many locals as the "boneyard." The facility functions as a holding place to store planes until their ultimate fate has been determined.
Aerial view of aircraft in storage at Davis-Monthan Air Force Base AMARG boneyard
C-141 and B-52 aircraft at Davis-Monthan Air Force Base AMARG boneyard
Aerial view of C-130 aircraft at Davis-Monthan Air Force Base AMARG boneyard
Aerial view of C-135 aircraft at Davis-Monthan Air Force Base AMARG boneyard
360 Degree VR Aerial View of Davis-Monthan AMARG courtesy of AerialSphere, LLC, Phoenix AZ
Davis-Monthan AFB's role in the storage of military aircraft began after World War II, and continues today.
It has evolved into "the largest aircraft boneyard in the world".
With the area's low humidity in the 10%-20% range, meager rainfall of 11″ annually, hard alkaline soil, and high altitude of 2,550 feet allowing the aircraft to be naturally preserved for cannibalization or possible reuse, Davis-Monthan is the logical choice for a major storage facility. The geology of the desert allows aircraft to be moved around without having to pave the storage areas.
By May of 1946, more than 600 B-29 Superfortresses and 200 C-47 Skytrains had been moved to Davis-Monthan. Some were preserved and returned to action in the Korean War, others were scrapped.
In February of 1956, the first Convair B-36 Peacemaker aircraft arrived at Davis-Monthan AFB for scrapping. All of the fleet of 384 Peacemakers would ultimately be dismantled except for four remaining B-36 survivors saved for air museums.
n 1965, the Department of Defense decided to close its Litchfield Park storage facility in Phoenix, and consolidate the Navy's surplus air fleet into Davis-Monthan. Along with this move, the name of the 2704th Air Force Storage and Disposition Group was changed to Military Aircraft Storage and Disposition Center (MASDC) to better reflect its joint services mission.
Aerial view of Davis-Monthan Air Force Base and AMARG airplane boneyard in Tucson, Arizona with rows of C-141 Starlifters, B-1B Lancers and F-111 Aardvarks in storage
In early 1965, aircraft from Litchfield Park began the move from Phoenix to Tucson, mostly moved by truck, a cheaper alternative than removing planes from their protective coverings, flying them, and protecting them again.
The last Air Force B-47 jet bomber was retired at the end of 1969, and the entire fleet was dismantled at Davis-Monthan except for about 30 Stratojets which were saved for display in air museums.
In 1985, the facility's name was changed again, from MASDC to the Aerospace Maintenance and Regeneration Center (AMARC) as outdated ICBM missiles also entered storage at Davis-Monthan. In the 1990s 365 surplus B-52 Stratofortress bombers were dismantled at the facility.
Davis-Monthan is today the location of the 309th Aerospace Maintenance and Regeneration Group (AMARG), the sole aircraft boneyard and parts reclamation facility for all excess military and government aircraft. Aircraft from the Air Force, Navy, Marine Corps, Coast Guard, NASA and other government agencies are processed at AMARG, which employs 550 people, almost all civilians. It is the largest airplane boneyard in the world.
Another role of AMARG is to support the program that converts old fighter jets, such as the F-4 Phantom II and F-16, into aerial target drones. It also serves as an auxiliary facility of the National Museum of the United States Air Force, and stores tooling for out-of-production military aircraft.
AMARG's typical inventory comprises more than 4,400 aircraft, which makes it the largest aircraft storage and preservation facility in the world.
The Air Force Materiel Command's 309th Aerospace Maintenance and Regeneration Group (AMARG) is organized as follows:
576th Aerospace Maintenance and Regeneration Squadron
577th Commodities Reclamation Squadron
578th Storage and Disposal Squadron
309th Support Squadron
Not all Air Force aircraft sent to the boneyard are scrapped! Seven years after it was sent to storage in the desert at the U.S. Air Force's AMARG "boneyard" at Davis-Monthan AFB in Tucson, Arizona, B-52H "Ghost Rider" has been regenerated. The aircraft, S/N 61-1007, has undergone refurbishment by personnel from AMARG, Barksdale AFB and Minot and Tinker Air Force bases. Work included replacement of hydraulic hoses and other vital components for flight. The Stratofortress flew from Tucson to Barksdale AFB in Bossier City, LA, on February 17, 2015 with a crew of three onboard. The plane will replace B-52 S/N 0049 damaged by a cockpit fire, and maintain the USAF B-52 roster at 76 aircraft. After additional maintenance at Barksdale and Tinker AFB, Ghost Rider will be returned to service in mid-2016.
All aircraft going into storage are processed as follows:
All guns, ejection seat charges, and classified hardware are removed, along with clocks and data plates.
Each aircraft is washed on arrival . The washing is especially important for aircraft that have served aboard aircraft carriers or in tropical locations where they were subject to the corrosive effects of warm, salty air.
The fuel system is protected by draining it, refilling it with lightweight oil, and then draining it again, leaving a protective oil film.
The aircraft is sealed from dust, sunlight, and high temperatures. This is done using a variety of materials, ranging from "spraylat" (a white, opaque, high-tech vinyl plastic compound sprayed on the aircraft) to simple garbage bags. With the white coating, interior temperatures will usually remain within 15 degrees of the outside ambient air temperature.
The plane is towed by a tug to its designated "storage" position.
Aerial view of work areas at Davis-Monthan Air Force Base AMARG
C-5A Galaxy transports in storage at Davis-Monthan Air Force Base AMARG
C-5A Galaxy reclamation at Davis-Monthan Air Force Base AMARG
A-10 Thunderbolts parked at Davis-Monthan Air Force Base AMARG
Number 12: The Hole Truth, And Nothing But The Truth
1,720ft deep and 3,900ft wide, is a diamond mine and one of the largest man-made holes in the world. Helicopters flying over can be sucked in due to its downward air flow.
The Mir Mine, popularly called the Mirny Mine, is a formerly active open-pit diamond mine located in Mirny, Eastern Siberia, Russia, that at its operational peak produced over 10 million carats of diamonds per year. Some people also refer to this mine as the Navel of the Earth. With a depth of about 1,722 ft and a diameter of about 3,900 feet, the Mirny Diamond Mine holds the fourth position for depth among the world's open pit mines. The Mirny mine also holds the title of the second largest largest excavated hole in the world (Bingham Canyon Mine is #1). The airspace over this mine is closed for flying because there have been reported incidents of helicopters being sucked in by the airflow. This phenomenon occurs because the size of the Mirny diamond mine often causes the nearby atmosphere to have drastically different temperatures and current flows.
The search for diamonds in the USSR began out of Stalin's desire to make the USSR a more independent economy. After WWII, the USSR required large quantities of industrial diamonds to support the reconstruction of the country. Ekaterina Elagina, Uri Khabardin and Viktor Avdeenko were the geniuses behind the discovery of the diamond deposits back in 1955. All three of these individuals were geologists from the Soviet Union during the Amakinsky Expedition. Their expedition was the first in the history of the Soviet Union to successfully find Kimberlite – a volcanic rock associated with the existence of diamonds. For their discovery, the scientists were awarded the Lenin Prize – a prize similar in honor to the modern-day Nobel Prize.
Siberia has quite harsh weather conditions. The summer lasts in Siberia for a very short time, whereas the snowy winter last for about 7 months. When the development of this mine started way back in 1957 it was covered with snow. This made mining very difficult. Jet engines were used for thawing and digging out the permafrost. Dynamite was also used for digging out the Kimberlite. The mining required immense efforts on part of the workers and the mine was usually covered at night. The prime objective was to prevent the machinery from getting frozen.
Siberia has quite harsh weather conditions. The summer lasts in Siberia for a very short time, whereas the snowy winter last for about 7 months. When the development of this mine started way back in 1957 it was covered with snow. This made mining very difficult. Jet engines were used for thawing and digging out the permafrost. Dynamite was also used for digging out the Kimberlite. The mining required immense efforts on part of the workers and the mine was usually covered at night. The prime objective was to prevent the machinery from getting frozen.
The Mirny diamond mine was able to generate about 2000 kg of diamonds per year. The best quality diamond content was present in the upper layers of the pit. where the diamond content was about 4 carats per tonne. The content quality of the diamonds declined towards the end of the pit and the yield was about 2 carats per tonne in the bottom layer. The high quality of diamond found in the Mirny diamond mine contributed to Russia's status as the world's third largest diamond producer.
The Mirny mine would become one of the biggest revenue sources for the Soviet Union, but for the DeBeers company, it would prove a worrying conundrum for decades. Prior to when Mirny began production, DeBeers enjoyed a monopoly in the diamond business since the turn of the 19th century. In order to keep prices high, the company was obligated to buy most of the gem-quality diamonds that the Mirny produced. From their previous experiences, De Beers geologists thought that the Mirny mine would begin to peak well before the end of the 1960s, so it was an incredible surprise to the entire world that the Soviet Union would continue producing increasing quality diamonds into the 1970s.
The Mirny Mine was permanently closed in 2011. Over it's 54 year lifespan, the Mirny mine saw both open-pit and underground operations and commanded awe from the entire world. Today, the mine site as a giant scar in one of the most remote parts of the world. Visiting the site in the real world may not be the easiest of tasks, but with the wonders of Google Maps, you can tour the Mirny Mine right here:
Number 13: Post Cards From Ghost To Coast
Welcome to Varosha, the Mediterranean's best kept secret.
Miles of sand where it's just you and nature. Dozens of grand hotels where you'll have the pick of the rooms.
Just remember to pack your bolt cutters to make a hole in the fence – and watch out for the army patrols with orders to shoot on sight. It's VACATION TIME.
As I mix the tropical drinks let me tell you a little something about Varosha. Before the division of Cyprus in 1974, Varosha – a resort in Famagusta – was booming.
The rich and famous were drawn by some of the best beaches on the island. Richard Burton and Brigitte Bardot all dropped by – the Argo Hotel on JFK Avenue was said to be Elizabeth Taylor's favorite.
"Anyone who comes from Varosha has a romanticised notion of it," says Vasia Markides, 34, an American Greek-Cypriot whose mother grew up there. "They talk about it being the hub of art and intellectual activity. They describe it as the French Riviera of Cyprus."
But 40 years ago, after years of inter-ethnic violence culminating in a coup inspired by Greece's ruling military junta, Turkey invaded Cyprus and occupied the northern third of the island.
As its troops approached Varosha, a Greek-Cypriot community, the inhabitants fled, intending to return when the situation calmed down.
However, the resort was fenced off by the Turkish military and has been a ghost town ever since. A UN resolution of 1984 calls for the handover of Varosha to UN control and prohibits any attempt to resettle it by anyone other than those who were forced out.
One of them was Markides' mother Emily – she had just got married and her wedding presents were still in the attic when they abandoned the family home. Others tell stories of pots left cooking on stoves, of lives stopped in mid-frame.
In 2003, travel restrictions were eased for the first time, allowing Cypriots on both sides to cross the UN Buffer Zone, commonly known as the "Green Line".
"The picture that I had in my mind was of a kind of paradise," Vasia Markides says of the day when she returned to peer across the wire at her ancestral home for the first time. "But it felt like some sort of post-apocalyptic nightmare.
"You're seeing nature take over. Prickly pear bushes have overrun the entire six square kilometres. There are trees that have sprouted through living rooms. It's a ghost town."
Signs warn tourists peering across the fence that "photos and movies are forbidden." Trespassers risk death. Exiled residents regularly pin love-letters and flowers to the barbed wire.
Other than Turkish soldiers, few have ventured inside. Those that have describe extraordinary sights. A car dealership still stocked with 1974 cars, window displays of mannequins dressed in long-gone fashions, the sand dunes that have encroached over the seafront with rare sea turtles nesting in them.
Pictures of the devastation circulate online but the photographers won't always admit to taking them.
Anything of value is likely to have been looted long ago and the infrastructure is now damaged beyond repair. But Markides has big plans for Varosha."From the moment I saw it, I felt driven to see this place revive," she says. "You could feel the energy, its potential, the energy that was once there."
Now living in New York, Markides is spearheading a proposal to turn Varosha into an eco-city – a model for sustainability and peaceful coexistence. Her plans have gathered the support of both Greek and Turkish Cypriots, and she has formed an unlikely friendship.
"It was just like living next-door to ghosts," says Ceren Bogac, 34, a Turkish Cypriot who grew up in a house overlooking Varosha. "The houses had flower pots, curtains, but no one was living there – it was a space which had been left suddenly." Her school was by the fence too, so if a ball got kicked over by mistake, it was gone forever.
Bogac's grandparents were refugees from Larnaca in the South and had been given a Greek Cypriot home in exchange for the property they had to abandon. Bogac grew up there, but when she was five or six years old she made a troubling discovery.
"One day I found, in a box, the personal belongings of other people, like photo albums and journals," says Bogac. "I asked my grandmother: 'Who does this belong to?' She said: 'It belongs to the real owners of this house.' And that was the first time I realised that we don't own the house that we are living in.
"I was shocked," she says. "I was thinking about how this happened, why these people had to leave their place and what their psychology was when they were running to get out. What kind of situation they had been faced with in order to leave everything behind – the children's toys, the photo albums, everything."
This childhood realisation shaped Bogac's entire career – she became a psychologist and architect in order to understand how it affects people to live in someone else's home. As part of her research she came across Vasia Markides' 2008 documentary Hidden in the Sand in which Famagustians on both sides talk about how they feel about the division.
Bogac emailed the documentary maker and they began to correspond regularly.
One day Markides called and said: "Are you still interested in Varosha? Because it's haunting me."
"Yes," said Bogac, "it's haunting me too." They began to share ideas about how to improve the situation and that's how the Famagusta Ecocity Project first took off.
The idea is for Varosha to become a model for green technologies. "We need to pay attention to the signs that nature is giving us," says Markides, referring to the way nature has reclaimed the town. "It's about using the energy of the sun – that we have so much of in Cyprus – rather than relying on fossil fuels.
"It's a wonderful opportunity – since we have to rebuild a city from scratch, why not do it the right way this time? Back in the 1970s when all the hotels were built on the coast, they blocked the sun from hitting the beach after 1pm!"
To take a symbol of war, neglect, hatred and abandonment, and turn it into a model for the rest of the world, that's a success story
The project launches in January 2014 when Markides will begin making a documentary film about the effort to turn the Famagusta region into a thriving eco-city. It kicks off on 16 January with an architectural design studio overlooking the ghost city, where local and international experts will begin planning a sustainable future.
There is one big snag, however – those barbed wire fences and patrolling soldiers. While Cyprus remains divided, Varosha is likely to remain off-limits. Central to any settlement is the idea of "territorial adjustment" in which property taken from Greek Cypriots would be reinstated in full – this will also mean re-housing many Turkish Cypriots.
Nearly all of the property in the fenced-off area of Varosha belongs to Greek Cypriots – and it is uninhabited. Greek Cypriots argue that it would be a good confidence-building measure for the town to be returned before peace talks resume (on hold since March 2012.)
"It is a delicate issue", says Fiona Mullen, an economist and part of the Famagusta Ecocity Project. "While it is true that it would make a very big difference to how Greek Cypriots view Turkey, the Turks and Turkish Cypriots have always worried that if they gave back Varosha, the Greek Cypriots might just "pocket" it, and not give anything in return." So the longstanding position of Turkey and the Turkish Cypriots is that Varosha forms part of a comprehensive settlement – past proposals have included re-opening ports and airports in the north.
Bogac is hopeful, despite the challenges. "The problem in Cyprus is not the politics," she says. "The problem is we are waiting for others to come and start something in our own country – but if we start such a movement for the first time I think we can get ready for any economic or financial situation. We have to do something for this city."
"To really take a place that is a symbol of war and neglect and hatred and abandonment, and turn it into a model that the rest of the world could use – to me it's a success story even if we only bring awareness, a plan for other communities."
Ready to go back home? It has been quiet the long journey. OK Dorthy click those ruby reds together or book us a seat on the fastest flight home. Why do you sit there looking like an envelope without any address on it? See the world. Everything you can imagine is real
Lou Ceffer
Lou Ceffer@LouCeffer